By Jim Boyce | Call it our tribute to the Chinese consumer: every year we hold the Grape Wall Challenge and ask occasional drinkers to be wine judges. The idea is to give consumers confidence around wine, a topic many people find complicated and intimidating, to discover what they like, and to have fun
We recently held the eighth Grape Wall Challenge at Pop-Up Beijing, a home decor shop with two wine bars.
While GWC usually focuses on wines that retail for under rmb100, this year's theme was local labels—from Xinjiang, Ningxia, Inner Mongolia, Shanxi and Shandong—with good reputations and national distribution.
A dozen judges, from fields as diverse as IT, food catering, education and marketing, tasted the wines blind, scored each one as "love it", "like it", "dislike it" or "hate it", and then discussed their picks with Ma Huiqin, a marketing expert and professor at China Agricultural University.
"Overall, the judges liked the wines and their favorites more or less reflected what professionals would pick," said Ma. "They like something fruitier and most of the wines this year tended to be very juicy."
The judges tried four flights: white wines and red wines under rmb165 and white wines and red wines from rmb166 to rmb320.
Cui Yunan, who does marketing in the food sector, said the tasting showed each wine's uniqueness.
"I was kind of a Merlot person, I never go wrong when buying it for friends, as it's sweet and fruity," she said. "But I could taste the slight differences with each wine."
She was surprised at wines from her home region of Ningxia.
"I know we have great weather for grapes, and I know we can make good wine, but I didn't know we can make it that good!" said Cui. "It was beyond my expectations."
Her favorite was a red blend from Kanaan: "It smells good and fresh, it's soft, it's not too sweet or sour."
Pop-Up co-owner Vito Zhang said he had little experience with Chinese wines beyond those from Dynasty and Changyu. While he said the GWC wines were better, he did see room for improvement.
"My favorite was the [Bordeaux-style] Deep Blue from Grace Vineyard," he said.
In terms of scores, the judges generally liked the white wines although no brand stood out as a clear favorite. For wines priced to rmb165, Kanaan Riesling from Ningxia (rmb150, Summergate) scored slightly higher, while Grace Vineyard Tasya's Reserve Chardonnay from Shanxi (rmb308, ASC) took those honors for the pricier flight.
For red wines, the less expensive flight was the most divisive. It not only received more "hate it" votes than all other flights combined but also saw all four wines receive "love it" vote, thus showing the diversity of tastes among the judges. Silver Heights 'Last Warrior' Red Blend from Ningxia (rmb158, Torres) easily won this flight.
In the more expensive flight, four of the six wines were overwhelmingly loved / liked. Grace Vineyard 'Deep Blue' Cabernet blend from Shanxi (RMB 308, ASC) emerged as the highest-scoring wine of the night. One judge called it "refined" and others cited its soft fruity character.
Tiansai 'Selection' Cabernet-Shiraz from Xinjiang (RMB 328, East Meets West), noted for its ripe red fruit, as well as Kanaan 'Pretty Pony' Cabernet-Merlot from Ningxia (RMB 295, Summergate) and Silver Heights 'Family Reserve from Ningxia (RMB 308, Torres) were also widely liked.
Ma noted that red wines dominate China's market, with more than an 80 percent share, and that can affect perceptions.
"Consumers definitely have more experience and confidence with red wine," she says. In terms of the white wines, she added that drinking chilled liquids, especially in the winter, is not common for many consumers.
Several judges also noted the relatively high prices, a common criticism in a market with an increasingly rich range of inexpensive imported wines. Even so, like Cui, they tended to be surprised by the quality of the Chinese wines and that bodes well for the future.
GWC doesn't claim to reveal general truths about Chinese consumers but to give a snapshot of what a given group thinks. The judges left with not only a better understanding of what China but also full of delicious wine and pizza.
The full lineup of wines:
Flight 1: White wines up to rmb165
Chateau Nine Peaks (九顶) Chardonnay 2015, Shandong
Kanaan (迦南) Riesling 2014, Ningxia
Silver Heights (银色高地) "Last Warrior" Chardonnay, Riesling & Sauvignon Blanc 2015, Ningxia
Flight 2: White wines rmb166-rmb330
Grace Vineyard (怡园) "Tasya's Reserve" Chardonnay 2015, Shanxi
Silver Heights ( 银色高地) "Family Reserve" Chardonnay 2014, Ningxia
Tiansai (天塞) "Reserve" Chardonnay 2015, Xinjiang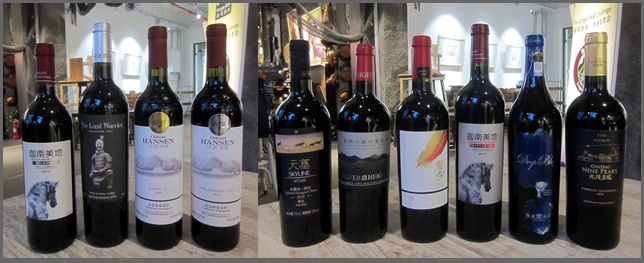 Flight 3: Red wines up to rmb165
Hansen ( 汉森) Sauvignon 2015, Ningxia
Hansen ( 汉森) Cabernet Gernischt 2015, Ningxia
Kanaan (迦南) "Wild Pony" Cabernet Saugignon-Merlot-Cabernet Gernischt 2014, Ningxia
Silver Heights ( 银色高地) "Last Warrior" Cabernet-Merlot 2014, Ningxia
Flight 4: Red wines rmb166-rmb330
Chateau Nine Peaks (九顶) "Reserve" Cabernet Sauvignon 2013, Shandong
Grace Vineyard (怡园) "Deep Blue" Cabernet Sauvignon-Merlot-Cabernet France 2012, Shanxi
Kanaan (迦南) "Pretty Pony" Cabernet Sauvignon-Merlot 2013, Ningxia
Legacy Peak (留世) Cabernet Sauvignon 2013, Ningxia
Silver Heights ( 银色高地) "Family Reserve" Cabernt Sauvignon-Merlot 2014, Ningxia
Tiansai (天塞) "Selection" Cabernet Sauvignon-Shiraz 2013, Xinjiang
Check out the results from previous GWCs here.
Note: GWC is a non-profit initiative by Grape Wall of China. Pop-Up Beijing provided space for GWC8 as well as glassware, spittoons and other key materials, Ma Huiqin led the discussion, ASC, East Meets West, Paradox, Torres and Summergate donated the wines, and Jim Boyce handled general logistics. Thanks to all of the judges, particularly Chris, who provided the pizza!
---
Sign up below for my China wine e-newsletter. Check out these books about wine and my sibling sites World Baijiu Day and Beijing Boyce.

Content takes time and resources. And I don't have advertisers or sponsors. If you find Grape Wall useful, please help cover its costs via PayPal, WeChat or Alipay.
You can also sign up for my free newsletter here. Follow Grape Wall on LinkedIn, Instagram, Facebook and Twitter. And see sibling sites World Marselan Day, World Baijiu Day and Beijing Boyce. Reach Grape Wall via grapewallofchina (at) gmail.com.