By Jim Boyce | Beer, cocktail and spirits fans face far better options than their grape-loving brethren in Beijing, whose hopes are raised every time a slew of wine bars opens and dashed when the same spots close or water down their aspirations. Here's hoping the newest wave, including Buono Bocca, Fu, Vesuvio and Vin Vino, will improve the situation. But the most inspiring place of the past year wasn't even focused on wine.
The core business of Pop-Up Beijing is interior decor. This long narrow venue stocks everything from Chinese antiques and reproductions to one-of-a-kind works by local artists to China-centric souvenirs with just the right kitsch factor. It's a Santa's workshop of items that draws a steady stream of newbies and loyal customers.
Pop-Up also sells a shitload of good wine.
About 18 months ago, Pop-Up opened a tiny bar on its lower level. There was just enough room for six stools, plus a few tables for two. The menu included a dozen wines picked by co-owner Glenn Schuitman, who was once global communications manager for the winery Montana in New Zealand, his home country, and knows a good drop.
Three months ago, Pop-Up took things up a notch. It knocked a hole in its west wall and expanded into a large room. In contrast to the artful clutter of the original space, the new one is more like an art gallery with wing chairs and long tables.
Pop-Up added another bar there.
So what makes this place special?
Take Christmas Day. A steady stream of imbibers arrived at the new bar to enjoy a glass or two for the holidays. Two customers relaxed in wing chairs and sipped wine. Eight people, including me, enjoyed Christmas dinner at a long table, while five others at a second table stuck to a liquid meal. And a group at the original bar drank wine and watched Home Alone, which might go against the grain of a place where the Tuesday night movies focus on 1950s and 1960s classics, but was done in the spirit of the day.
Right now snobs will be saying an interior decor shop with a mishmash of events is hardly the place to promote the glories of wine. They're wrong. Frankly, the snobs have failed us. They support a scene that doubles as a safe space for them but is intimidating and / or boring for most everyone else. One of their favorite places once sat a mere 50 meters from Pop-Up Beijing: Bar Veloce, spin-off of the hip New York City venue, was supposedly destined to take our fair city to new heights just a few years ago. Tone-deaf to consumer desires, it lasted less than a year and is now the very popular Jing-A Taproom.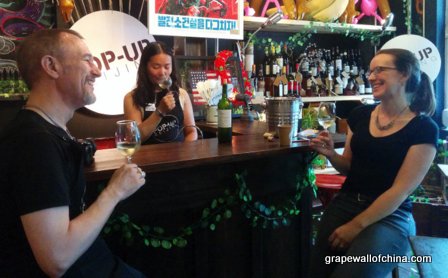 What makes Pop-Up work is flexibility. It doesn't shove wine in your face—unless you want it to. Grab a bottle, head for the wing chairs or tables, and chat. Or wander about the shop with your wine and look at the eye candy. Or enjoy a glass while taking a book-making or other class, watching a Tuesday night movie, or attending a one-off event like the annual Christmas carols session.
Should you want more info, you can check the tasting notes or ask the Pop-Up team: co-owner Schuitman is a friendly and diplomatic guy backed by an efficient staff. All of this flexibility leads to a sense of ease and enjoyment far too often lost in those bars trying to be serious.
Snobs will also point to the menu's size and scope, and scoff at the idea of promoting wine with just 17 options from a handful of nations. But there is merit to having a small quality menu versus a large half-ass one. I've tried most Pop-Up wines and, even if some are not my style, the quality is good. True, if someone likes that Pinot Blanc from Germany and wants to try another label, they won't find it at Pop-Up. But to me it's more important that someone enjoyed this grape, and wants to explore it further, than this place have an exhaustive portfolio.
If success is people drinking and enjoying good wine at fair prices, Pop-Up is doing a good job. And doing it regularly given the volume poured not just to walk-in customers but to guests at movie nights and classes and one-off events like national day gatherings.
Of course, no place is perfect. Because the main business is interior decor, the staff might not have the luxury to hang out and chat wine when antique and chandelier sales get heavy. And those seeking old vintages or pricey labels will be disappointed. Then there's price: some might balk at paying rmb60 for a glass of wine—or even rmb40 during the daily happy hours from 5 PM to 7 PM. Fair enough. But on the flip side, the bottles are as equally inexpensive, starting at just rmb180. It almost feels like those prices were chosen to encourage customers to bring a friend and share a bottle or two.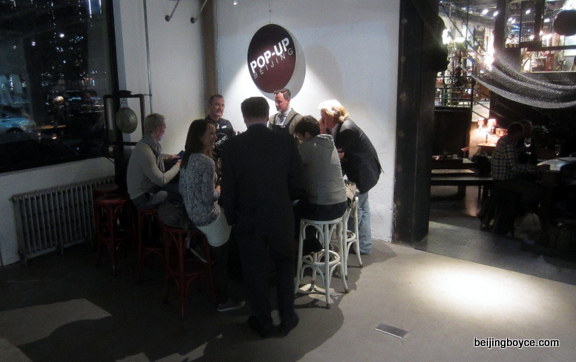 ---
Sign up below for my free China wine e-newsletter. And check out sibling sites World Baijiu Day and Beijing Boyce.
Good content takes resources. If you find Grape Wall useful, help cover its costs via PayPal, WeChat or credit / debit card. Also check out Grape Wall on Facebook. Twitter and Instagram. And sibling sites World Marselan Day, World Baijiu Day and Beijing Boyce.