Mariano Larrain Hurtado has imported and sold Chilean wine in China for nearly a decade, including via his La Cava de Laoma shops. I asked him if China's wine trade fairs are useful, why the wine market is struggling, COVID-related logistics costs, how China's hunger for Chilean cherries might see farmers there shift from grapes, the difference between Beijing and Shanghai consumers, and more. (Check out more Q&8s here.)
1 You opened a pair of shops in Shanghai this summer and, just looking at your posts, have already held a lot of events. How's it going so far, what makes your shops unique and what's your favorite event?
The idea of opening shops in the current environment is to give people a deeper experience compared to online delivery. The goal is to get a real connection with customers, while creating bonds and understanding their needs. We strive to build a community, La Cava Lovers. And I got many lovers at this point!
Our events always have this starting point in mind. My most ambitious exhibition has also been the most rewarding. I organized a showcase of Pan-African artistry in Shanghai, exhibiting the many talents of the community. We included painting, literature, anti-racism talks and fashion shows.
These events appealed to a community in great need of finding a safe space to share and meet peers. We all got emotional at some point and many new friendships were created. It was an outstanding event.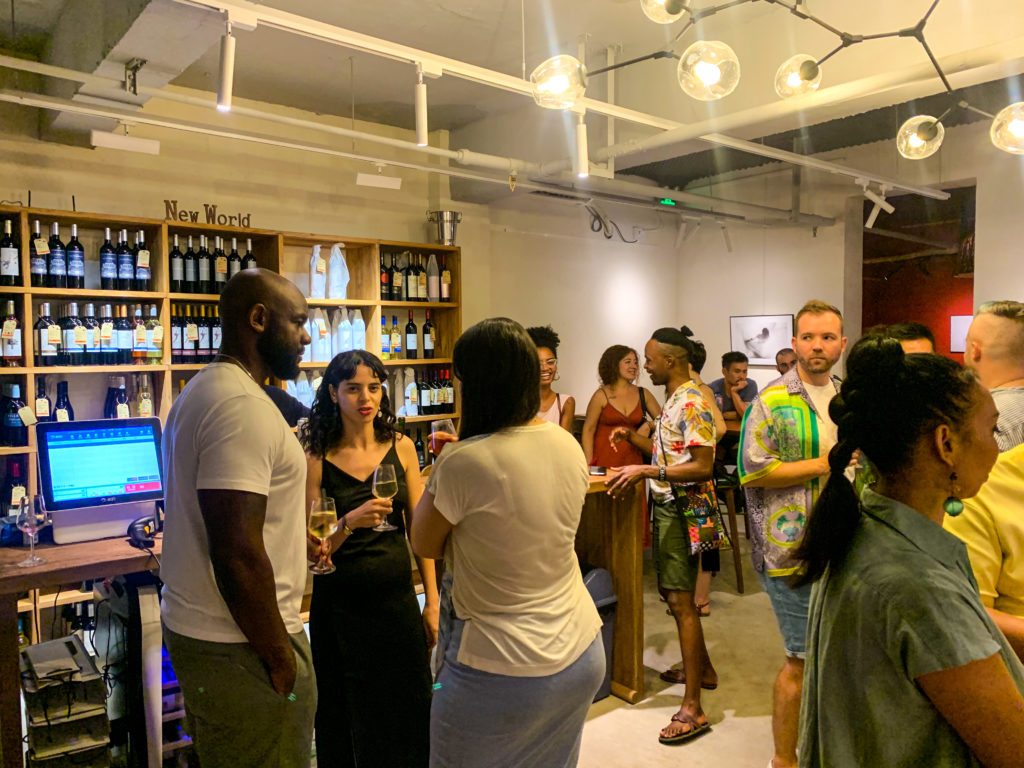 2 A lot of people talked about France and Chile benefitting from China's tariff on Australia wine last year but the reality is that the wine industry as a whole is struggling. How can we make the consumer market bigger?
It will take time, and only time will tell! I can call from the experience in Japanese and Korean markets. The penetration of wine as something that goes beyond a niche took decades there.
Chinese numbers are impressive from any point of view. Producers are spoiled and have great short-term expectations from China's market. But at the same time, they hardly understand the market and seldom invest with a long-term strategy.
I think they need to decrease expectations, realize that what happened from 2010 to 2015 [in terms of swift import growth] was an exception and shift the focus toward the end customer. I think the Wines of Chile strategy has more focus on the end consumers and I believe it will pay off.
3 Chile is associated with the grapes Carmenere and Cabernet but has much diversity beyond that. What are three wines in the La Cava portfolio you would suggest for someone seeking something different?
I somehow disagree. From the supply side, the portfolio of Chilean vineyards has been persistently boring. Worst of all, big companies tend to do similar wines, so they don't provide the excitement that terroirs and grapes bring to wine.
Fortunately, in recent years this has changed, sometimes due to big companies and sometimes to smaller producers. Extraordinary wines from old vines with local grape varieties and new terroirs, and with very small production, is sort of refreshing the sector. The problem is that the cost is much higher and there is uncertainly about how to market these wines abroad, particularly among Chinese consumers. Demand is still very Cabernet oriented!
Normally, I try to balance our portfolio, adding small allocations aimed at bringing diversity to a strong and conservative offer. That includes our natural orange wine JCV Charlie Villard, our natural and biodynamic Refugio Pinot Noir, and, finally, our wines with a natural higher acidity and freshness, such as AltaCima Merlot or Maquis Cabernet Franc.
4 Lots of wine importers are talking about rapidly rising shipping costs and lengthy delays during the COVID era. What has been your experience so far?
It's been challenging. In Chile, estates are facing shortages of basic materials such as bottles and paper. Also, they face a significant increase in labor costs. These bottlenecks haven't improved and importers should expect longer delivery times for sure.
Freights from Chile are just starting to increase so it should mean a rise in the overall cost of wine in the Chinese market. Fortunately, the exchange rate has been favorable to Chilean exports the last couple of years, so vineyards haven't reflected all the cost increases in the FOB [freight on board] prices. 
5 You've been critical of wine trade fairs and questioned the benefits versus the costs. What are your general thoughts on these fairs in China?
Depending on the strategy, they might be useful. I participated in many wine fairs all these years. For me, with a focus on mid-range to high-end Chilean wines, it's totally a waste of resources. If you are an exporter looking for importers, maybe it's a proper channel. But I'm certain that while the wine fairs get pricier, their rate of return is diminishing.
Potential customers aren't really going as much as they used to because there are so many fairs and they are so similar. During the month starting in mid-October, there isn't a week without wine fairs in the main cities, and particularly in Shanghai. I don't see any interest and it's always the same crowd. Also, how can a small estate stand out in a wine fair among the deluge of brands coming into the Chinese market?
6 You've now had wine shops in Beijing and Shanghai. What's the difference between consumers in those two cities?
I was in Beijing until four years ago, so the trends might have changed since. (We still do online delivery in Beijing but that is to long-term customers.)
Saying that, I recall that Beijing customers were interested in the most expensive wines or cheapest of all. The mid-range wines were hard to promote.
In that sense, my customers in Shanghai are totally different. They seldom buy expensive bottles and never buy cheap wines. Instead, they target the mid-priced bottles. This difference has to do with the use of the wine: while in Beijing, it was more about wine as a gift, in Shanghai, it's more about personal consumption, with customers looking for good value and to enjoy the wine with friends.
7 Chile isn't just about wine but lots of other great foods and drinks, too. What are three Chilean products we can find in China?
Cherries are an extremely successful story. In only 10 years, they become one of the most relevant agro-industrial export goods from Chile, surpassing 1 billion dollars in value two years ago. About 95% of those cherries end up in China, so it's a bit risky [to be so dependent]. Wine producers are now struggling to compete with cherry producers in terms of labor and land prices, increasing the overall production costs. [I'm going to post a separate article about this topic.]
Other Chilean products with great potential in the Chinese market are basically related to protein, such as salmon, lamb and beef. Hopefully, Chilean lamb can be a winner because my family has flocks in Tierra del Fuego!
When you're not drinking Chilean wine, what are some of your favorites from around the world?
Sorry to say, I'm not that adventurous about wines in China. Luckily enough, I can still get surprised by my own wines, discovering their development with age, and checking the different vintages and impact of weather changes in recent years. Also trying the wines with different friends and customers always brings a special feeling.
From our non-Chilean selection, but still in our portfolio, Argentina's Catena Zapata Malbec is always enjoyable as are the fine Spanish wines. Otherwise, it's hard to find value elsewhere in my opinion. Prices tend to be excessive and it's hard to understand which wines comes from established overseas estates and which are special labels for the Chinese market.
(Also see Super Mariano: Chilean Wine Importer Opens Two Shanghai Shops, Interview with Mariano Larrain Hurtado (2014) and Merlot to Go: The Glamorous Life of a Chilean Wine Importer in China.)

Content takes time and resources. And I don't have advertisers or sponsors. If you find Grape Wall useful, please help cover its costs via PayPal, WeChat or Alipay.
You can also sign up for my free newsletter here. Follow Grape Wall on LinkedIn, Instagram, Facebook and Twitter. And see sibling sites World Marselan Day, World Baijiu Day and Beijing Boyce. Reach Grape Wall via grapewallofchina (at) gmail.com.