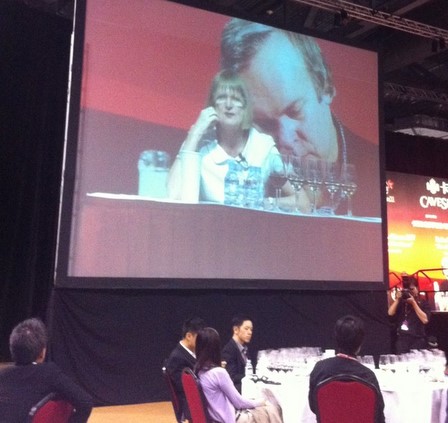 ~
By Jim Boyce
Robert Parker might live halfway around the globe but his influence is still felt here in China, where investors and importers regularly cite his scores. In the past few weeks alone, I have been told a half-dozen times — while hemming and hawing over a wine — that Parker gave it 90+ points. (I'll take a hundred bottles!)
Anyway, many in the wine business here will wonder about the future of Parker's magazine, The Wine Advocate, after news today that he sold a "substantial" share to investors — with no background in wine or publishing — in Singapore. According to The Wall Street Journal, here are planned and/or possible changes:
The Wine Advocate (TWA) A headquarters will move from Maryland to Singapore. <– Parker has since tweeted that HQ will stay in Maryland
Singapore-based TWA Asia-Pacific correspondent Lisa Perrotti-Brown will take over editorial control.
Parker will continue to write about Bordeaux and Rhone wines and be chairman of the new company.
The 34-year-old Wine Advocate newsletter will be terminated, possibly as early as the end of next year. <– Parker has since tweeted that the newsletter will not be cut
A Southeast Asia edition is planned for corporate clients.
TWA might accept ads, something that it has always avoided, but not from wine-related enterprises. <– Parker has since tweeted that the print edition will never take ads but the website might take non-wine ads
A correspondent will likely be added to cover Asia and organize tastings, and will likely be China-based.
That's a lot of change for a publication with a fairly steady position during the past three decades. (While we're at it, let's note that TWA isn't the only magazine to make a move in the Asia market this year: Wine Enthusiast from the U.S. and Decanter from England established online publications aimed at mainland China.)
I've already seen doom and gloom posts on Twitter re this deal. I mean, selling to investors in… Singapore? What good good possibly come of that? My guess is these same people would have scoffed a few years ago at the idea of Hong Kong becoming the world's top wine auction hub, of China making wines that could win notable awards, of the rapid growth in wine connoisseurs in Asia, of… well, I think you get the idea.
Here's the thing: Parker is 65 years old, was not expected to stick at TWA much longer, and appears to have made a move to reinvent the magazine in an age vastly different from the one in which he started it, to build a presence in the world's fastest-growing region, and to do so while he still has a substantial amount of power and can play a crucial role, most importantly by reviewing that all-important Bordeaux.
But until we get more details about the investors, their plans and timelines, and the odds of those "likely", "might" and "possibly" statements listed above maturing into "definitely" ones* — not to mention answers to questions like "Will Parker's notes be completely translated into Chinese?", "How many more years will he cover Bordeaux?", "Will TWA create a regional wine awards system?", etc — it is hard to evaluate this move. We can make some guesses — that Parker will continues to have power as long as he reviews Bordeaux; that TWA will increase competition in the region and hopefully drive up wine coverage quality; that Singapore might increase its wine status vis-a-vis Hong Kong — but it is pretty early to give any definitive answers. What we can give, though, is 100 points to Parker for making the wine world entertaining on a Monday.
* And Parker has already corrected or clarified three items in the Wall Street Journal story.
–
See also:

Content takes time and resources. And I don't have advertisers or sponsors. If you find Grape Wall useful, please help cover its costs via PayPal, WeChat or Alipay.
You can also sign up for my free newsletter here. Follow Grape Wall on LinkedIn, Instagram, Facebook and Twitter. And see sibling sites World Marselan Day, World Baijiu Day and Beijing Boyce. Reach Grape Wall via grapewallofchina (at) gmail.com.