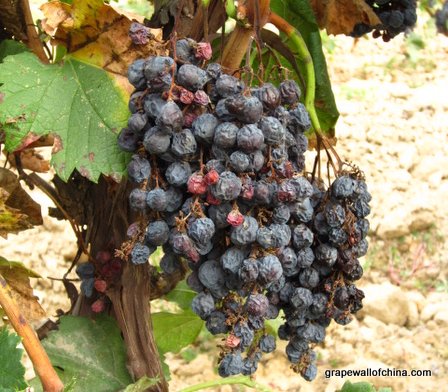 ~
By Jim Boyce
Ningxia has seen its fortunes rise dramatically in the past year: the region has performed well in tastings, gained observer status in the OIV, and seen an influx of wine makers, writers, consultants and investors. Not surprisingly, there are high hopes for Vintage 2012. Fulfilling such hopes, however, will be extremely difficult in the face of a poor harvest and it will be intriguing to see how the wine sector reacts.
Abnormally high rainfall and warm temperatures paired to turn some vineyards into figurative petri dishes for diseases, particularly downy mildew. I have talked to numerous people in the wine sector and heard estimates that between 20 percent and 50 percent* of this year's crop saw major disease damage, with vineyards near the capital city of Yinchuan particularly hard hit. Here are three thoughts about the situation.
First, this year's harvest shows the relative inexperience of the wine sector as a whole. On one hand, some grape growers applied fungicides in a timely manner and came through with little damage.
On the other hand, many growers delayed or did not take action that could have reduced damage. Sources tell of growers who were skeptical about advice to spray: they thought companies might be trying to trick them into buying unneeded fungicides and, in turn, they didn't decide to act until the disease was visible. Other growers had fungicides but did not use them due to time and money costs, especially given low profit margins on wine grapes. These growers seemed that unaware inaction this year might have negative consequences for next year.
In sum, there are clearly "haves" and "have nots" when it comes to disease knowledge. Hopefully the silver lining from this year's heavy rain clouds is to greatly increase such knowledge overall.
Second, one of Ningxia's selling point is a dry climate that reduces disease risk. This year's situation has come as a shocker to many people, who no doubt hope such a situation is a "one off".
However, as Ningxia becomes better known and more people look closely at its vineyards, other disease issues are coming to light. These range from trunk problems such as "bot rot" to canopy ones such as leafroll virus, the latter a particular threat for the grape most closely associated with Ningxia, Cabernet Gernischt. These diseases can be handled if the region takes the problem seriously and comes up with a plan.
Third, as already noted, this harvest comes just as Ningxia's star is rising. People have long scoffed at the idea of China making good wine in any meaningful way. Ningxia is helping to dispel that idea and faces pressure to solidify its position as an industry leader in China, especially as other regions ramp up their own wine programs.
Ningxia has a lot on the line. I imagine some producers will be tempted to make up for the lack of quality and quantity in this year's harvest by considering sources outside the region, especially since some of their competitors did take action against disease, ended up with good grapes and will be able to make quality wine. Such temptations are hopefully ignored, because Ningxia has built its reputation thus far by making wines in the region with grapes grown in the region.
* I realize that is a pretty big range but it depends on the sources, how they define damage and how much access they had to the vineyards. A safe bet might be 30 percent to 40 percent.
(You can follow me on Weibo here, Twitter here or here and Facebook here.)
Good content takes resources. If you find Grape Wall useful, help cover its costs via PayPal, WeChat or credit / debit card. Also check out Grape Wall on Facebook. Twitter and Instagram. And sibling sites World Marselan Day, World Baijiu Day and Beijing Boyce.