~
By Jim Boyce
Fans of UK wine critic Jancis Robinson might well have seen her four posts about a recent trip to the Ningxia region in China. The "free for all" section included one titled "China's most promising wine region?" while paid subscribers could read her overview of Ningxia, outline of ~20 of its wineries and notes on more than 50 local wines. She also recently wrote a column about Ningxia for the Financial Times (see Châteaux China) and a post about a Changyu wine from Ningxia now available in retail in London (see here).
This was not only the first time Robinson visited Ningxia but also the first time Ningxia hosted such a high-profile critic. As well as tasting 39 wines for the Ningxia Wine Awards, Robinson spent a day touring vineyards and wineries, from those with more than a decade in the business to those with facilities under construction and yet-to-be-planted fields, part of a plan to increase coverage by ~60,000 hectares.
I helped to organize the tasting and then tagged along on the tour with Robinson, Li Demei, who is a wine consultant and a lecturer at Beijing Agricultural University, and Huang Shan, who is owner of wine bar Pinot in Beijing. While I tried to be unobtrusive, I did take a few notes and snap some pics. Here, in chronological order, are a dozen of those photos…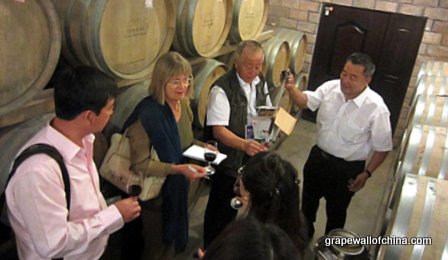 Changyu, Cabernet Gernischt Blend 2011 Ningxia

Content takes time and resources. And I don't have advertisers or sponsors. If you find Grape Wall useful, please help cover its costs via PayPal, WeChat or Alipay.
You can also sign up for my free newsletter here. Follow Grape Wall on LinkedIn, Instagram, Facebook and Twitter. And see sibling sites World Marselan Day, World Baijiu Day and Beijing Boyce. Reach Grape Wall via grapewallofchina (at) gmail.com.