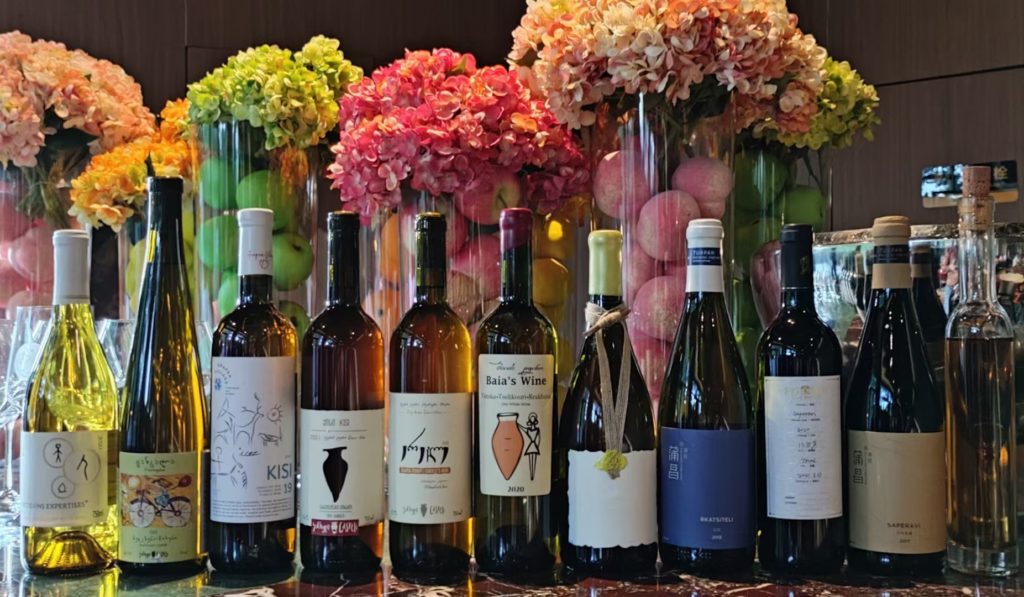 Now that was a quirky tasting. Our 'Orange at Peach' event this month in Beijing featured 8000 years of time travel plus curious local wines and tasty dishes from around the world.
The idea began fermenting when I met Beijing-based Larry Zheng, a major Georgian wine importer. He ultimately picked a bunch of wines for our event–each made using methods in use for eight millennia–and I added some Chinese wines related to the theme.
Simply put, the Georgian wines use big clay vessels called qvevri, which are buried to their necks in the ground, filled with white grapes, including the seeds and skins and sometimes stems, then covered so nature can do its work.
The result is a golden-hued liquid called everything from orange wine to amber wine to skin contact wine. It's an eye- and a taste bud-opener for those used to more modern styles. And for me, wine is about both taste and stories, and it is thrilling to try wine that might be familiar to people who existed before written history.
But that wasn't all. Our lineup at the new Peach restaurant near Houhai also included:
A Polish orange wine and a Chinese orange wine.
Three Chinese wines made from the Georgian grape varieties Rkatsetali and Saperavi, both of which first arrived here in the 1950s.
A wine made with native Chinese grape Longyan aka Dragon's Eye as our welcome drink.
And, to finish, an icewine by an amateur home winemaker in Beijing's hutongs using Vidal fruit from Liaoning province in northeast China.
Like I said, quirky tasting. All paired with dishes—and themes from Mexican to Italian to Middle Eastern—at the new Peach, operated by the same crack team behind TRB Forbidden City, TRB Hutong and the Hulu restaurant chain. A few photos from the newest member of the Peach family.
On to the tasting! As usual with the Grape Wall series, we had no PowerPoints and no speeches. My goal is to create fun and quirky wine lineups and themes and to share info about them in a casual way, letting people decide for themselves rather than pushing a lot of classroom-style info into their faces.
---
Welcome Drink
Our welcome drink was the Longyan—Dragon's Eye—a crisp, dry and invigorating wine with ample green apple character. Made by Clovitis, which consults for over 20 wineries across China, this ranks among the best Longyan wines I have tasted. And was a refreshing way to get our taste buds ready.
We then grabbed seats and jumped into the rest of the lineup, served two wines at a time. All five of the Georgian wines, except the last, came from the country's main wine region Khaketi in the eastern part of the country.
---
Casreli winery's 'Tsangala' 2020, equal parts Chinuri and Budeshuri grapes, is light, delicate and juicy, with touches of honey and stone fruit. Someone also noted a nutty character. This one had just three weeks of skin contact, then was aged in qvevri. It was a nice contrast to the Anapea Village 2019 (below) made with Kisi grapes.
(Fun fact: Casreli was started in 2014 by five medical doctors interested in wine.)
Along with much longer skin contact–four months–Anapea was aged for a year in qvevri. This delivered a fuller body, riper juicy fruit and spicier tannins. I also found some honey notes. Right away, this first pairing underscored that amber wine is a broad category and features a great deal of diversity within it.
(Fun fact: Like Casreli, family-owned Anapea Village also started in 2014.)
The bodies, acidity and tannins of the wines at this early stage also suggested versatility for food pairing. And we planned to enjoy a wide range of dishes to see what worked best, beginning with the Mexican-themed Fa-Burrito bowl and Middle Eastern-themed Fa-la-la-la salad, which we paired with the first four amber wines.
The Casreli Kisi 2020 (above left) was made with the same grapes as the Anapea Village wine but with just four weeks of skin contact. It showed yet another profile–an intense juicy and tight wine, with ripe peach character and fairly spicy tannins.
Fun fact: The Kisi grape was incredibly hard to find two decades ago but has made a big comeback. The Wines Georgia site states these grapes "transform into a deep orange, tea­-like, fragrant wine with dried fruit, tree flowers, and sweet spices."
Then we enjoyed the unintentional bottle of the night, an orange wine from Poland brought by a guest who bought it on his way to Beijing from Warsaw. (Luckily, it survived his quarantine! Thanks Henrik!)
Made by Domaine Bliskowice with the grape Johanniter, this was my first time trying a Polish wine or hearing of this grape.
This one had a deeper amber hue and a slight creaminess / nuttiness to go along with green apple-ish acidity, herbal notes (think pizza spices) and nice tannins. If you'd never had an orange wine before and were used to mainstream wines, this wine would be the funkiest / weirdest / most unique wine so far.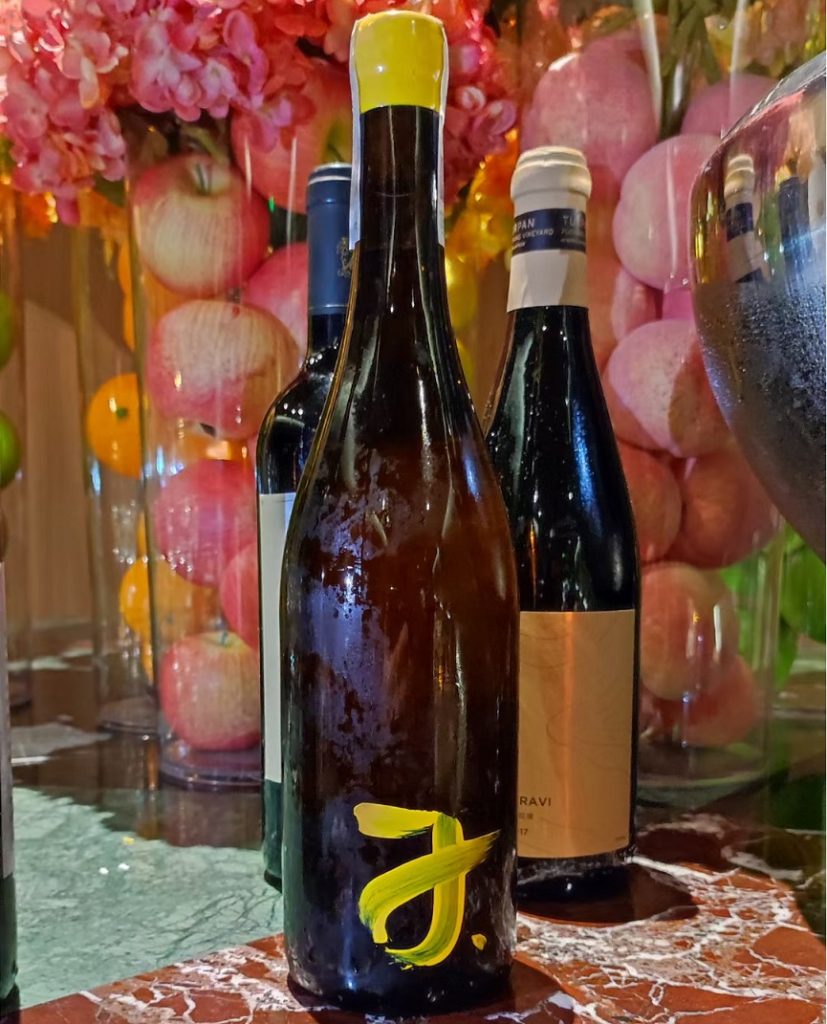 ---
Our next foursome began with the last two Georgian wines and also my favorites. Casreli's Erekle 2020 (above right) was juicy, with nice texture and complexity, the character a morphing mixture of orchard, tropical and citrus fruits. Plus, it had some nice nice spicy tannins!
(Fun fact: This wine is named for King Erekle II, who reunited the country in the 18th century. It is a four-grape blend that he apparently favored: Rkatsetali and Kisi (35 percent each) plus Mtsvane and Khikhvi (15 percent each).)
Our last Georgian wine was from Baia, the only non-Khaketi producer in our lineup. This one hails from the Imereti region, in the central-east, and is blend of three grapes — Krakhuna, Tsitska, and Tsolikouri.
This wine saw three months of skin contact–30 percent of the grapes had their skins–with fermentation sparked by wild yeast. This wine was a nice partner to the Erekle, being fairly full bodied, with impressive freshness and fruitiness, and able to handle our dishes in this flight, including the roast chicken, lasagna and fish 'n' chips.
We also tried these dishes with a pair of Chinese wines.
The first orange wine from Domaine Charme in Ningxia features Viogner aged six months in 500-liter new French oak barrels. Viognier has become a kind of signature grape of Charme, which is close to the Helan Mountain and features a pyramid shaped building that owner / architect Zhang Pei claims delivers special energy to the wines aging in the cellar in its base.
In any case, this wine is lightly floral, with fruit character both sweet and tart — white peach? — along with tangerine peel, honey and touches of oak and spiciness. (The tasting notes also cite 'ginger' — that made sense.) This is worth a try, especially if you have enjoyed Charme's regular Viognier.
The second was a Rkatsetali from winery Puchang in the Turpan area of Xinjiang, where this grape arrived in the mid-1950s. This is an eye-opener for Rkatsetali fans: juicy but delicate, with lots of bright fresh fruit, playful acidity and a pleasant smoothness.
---
We were now in the home stretch and heading for a pair of local wines made with Georgia's flagship red grape variety, Saperavi, which also came to China in the mid-1950s.
Saperavi is among the grapes that Grace Vineyard is now testing for possible commercial use, with others including Sangiovese, Tempranillo and Nebbiolo. Our sample bottle featured grapes from two-year-old vines in Ningxia, made with no barrel aging in order to get a direct feel for the fruit profile. And what a profile that was. At worst, it was described as "raw", a natural reaction. At best, it wowed with its vibrancy and juicy dark fruit and layered textures. "Bright red fruit," said one attendee.
The second was Puchang's take on Saperavi and a nice contrast, showing what more matures vines could achieve in China. This one had ripe dark concentrated fruit and some complex aromas such as cola, spices and smoke. It bordered on jammy and I wrote down, "moody but in a good way," which kind of described how I was feeling after all this food and booze.
We paired the reds with the Mamacita Bowl, which includes flank steak, feta cheese, corn, Jalapeno sauce and more. And with the Chorizo pasta. I also tried some of the fuller-bodied orange wines with that pasta and enjoyed how the textures and flavors worked together.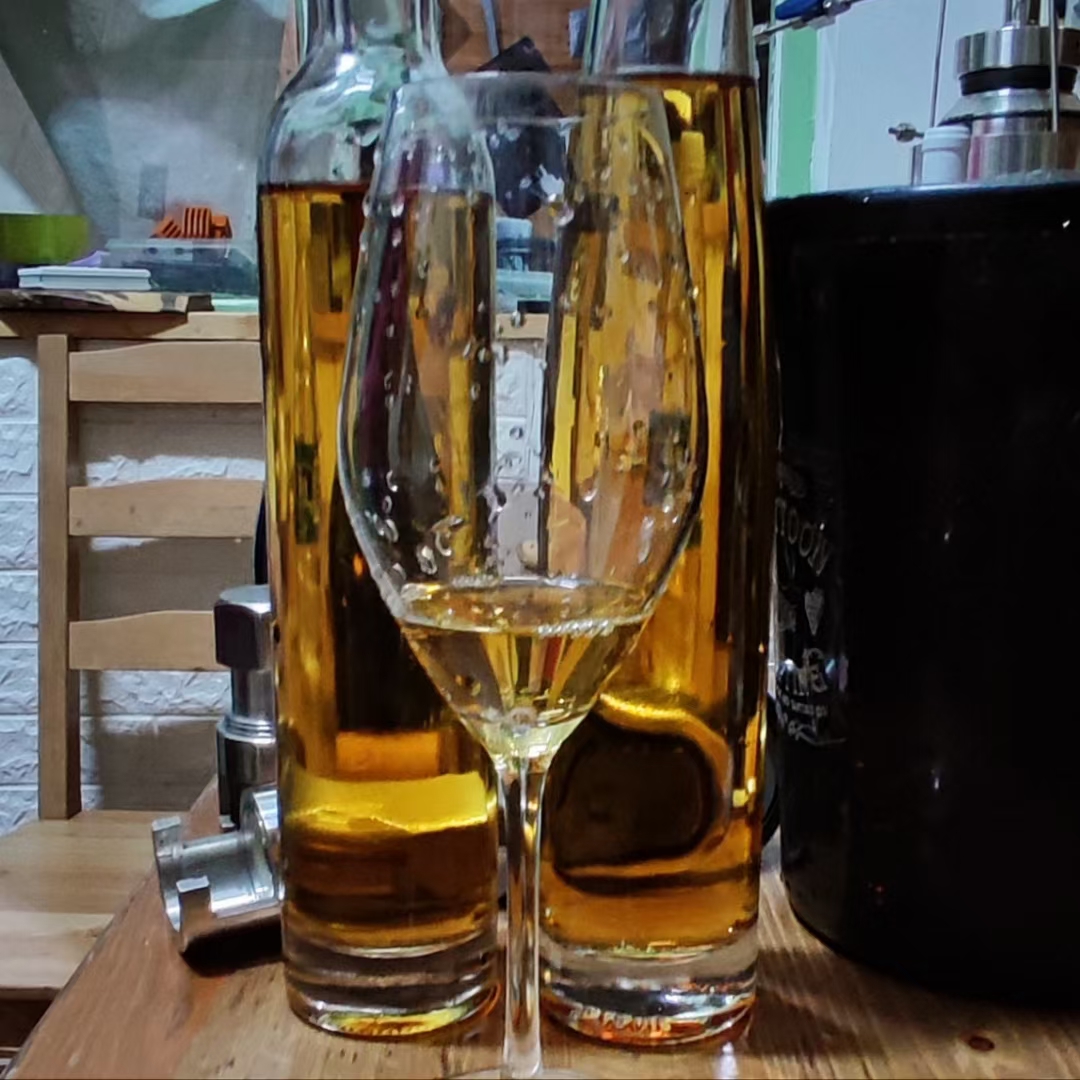 Our final wine was also a special treat, a Vidal icewine made by an amateur home brewer in the hutongs — old-style alleyway neighborhoods — of Beijing. I've written about amateur winemaker Zhang Bingzhai before, especially about his delectable Marselan.
I visited Zhang a few days before our Peach tasting and he gave me a bottle of his 2016 icewine, made using fruit from the northeastern province of Liaoning. It showed very well at our event: viscous but not syrupy, it had a nice "sweet and sour" character. You had nice apricot sweetness up front balanced with some tart acidity, plus touches of smokiness. We enjoyed this one with maple syrup topped pancakes—fruit and Nutella versions—and then called it a night.
Thanks to Larry of Georgia Selections, to Ignace, Carlos and Jenny of Peach, to Grace, Charme, Puchang, Clovitis and Wanderfalke, and to the attendees for joining. This was among the quirkiest lineups at our Grape Wall tastings so far — we will have another Georgia orange wine event next week — and latest in a series that has most recently covered Marselan wines, San Marino wines, Greek natural wines and Chinese natural wines. (If you are interested in such events, contact me via 'beijingboyce' on WeChat.)
Sign up for my free newsletter here. Also follow Grape Wall on LinkedIn, Instagram, Facebook and Twitter. And see sibling sites World Marselan Day, World Baijiu Day and Beijing Boyce. Good content takes time and resources. If you find Grape Wall useful, please help cover its costs via PayPal, WeChat or Alipay. Reach Grape Wall via grapewallofchina (at) gmail.com.