Madeira is such an excellent story for us here in Beijing, not least because we have the tasting room / retail shop / cultural center Madeira Home, run by Linda Zhang å¼ è‹¥æ›¦. I recently visited and tasted four wines from Madeira, that rugged archipelago 750 km off Africa's west coast. Here are eight reasons why Madeira should appeal to many drinkers — plus details on some crazy good tasting deals available until Chinese New Year.
First, the wines are deliciously sweet. Too often wine consumers with a sweet tooth are dismissed–I've heard people apologize for enjoying such wine–but Madeira provides them with a world-class option.
Second, open bottles last indefinitely, for weeks, months or even years. No need to worry your leftover wine will spoil. You can enjoy some for Chinese New Year and then put it away until next Chinese New Year, though I doubt you can resist drinking it.
Third, Madeira wines are not that pricey. Bottles at Madeira Home start from rmb 168 for 3-year-old Barbeito 'Rainwater.'
Fourth, some wines evoke Chinese alcohol, notably huangjiu / yellow wine, due to being oxidized. That can make for a fun reference point.
Fifth, Madeira is an autonomous region of Portugal, and the Chinese name for Portugal–葡萄牙–translates to "grape tooth." Grape tooth. It's destiny!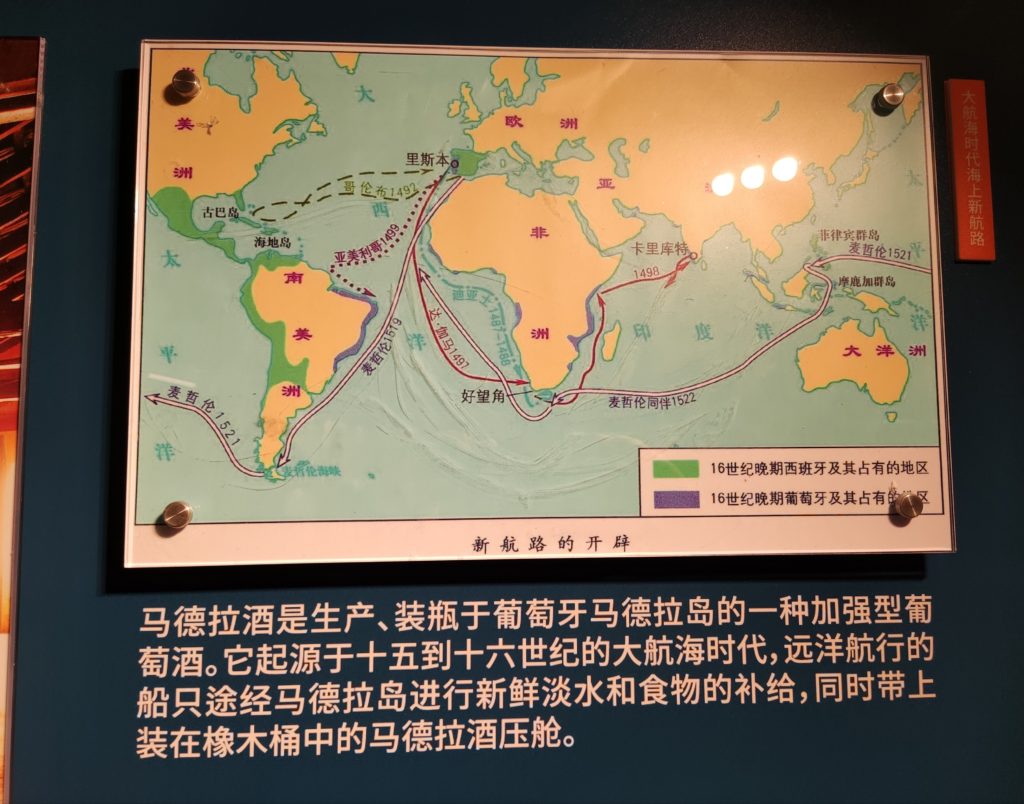 Sixth, Madeira wine has intriguing links to world history, from the age of European conquest, as the archipelago was a stop for ships crossing the Atlantic Ocean, to the Declaration of Independence, as signers celebrated with this wine. Madeira is also the birthplace of football star Ronaldo.
Seventh, how Madeira wine itself came to be / how it is made are also intriguing stories, including those ship crews in need of booze that could endure a long voyage, thus leading to the wine being fortified to help preserve it, how it ended up that the heat in the hold caused the wine to take on appealing flavors, and so on.
Eighth, it makes a great birthday gift as you can hunt down a bottle from the birth year of the person celebrating. Know anyone born in 1850?
That's eight.
Bonus reason. Madeira Home currently has some superb deals via Dianping until Chinese New Year.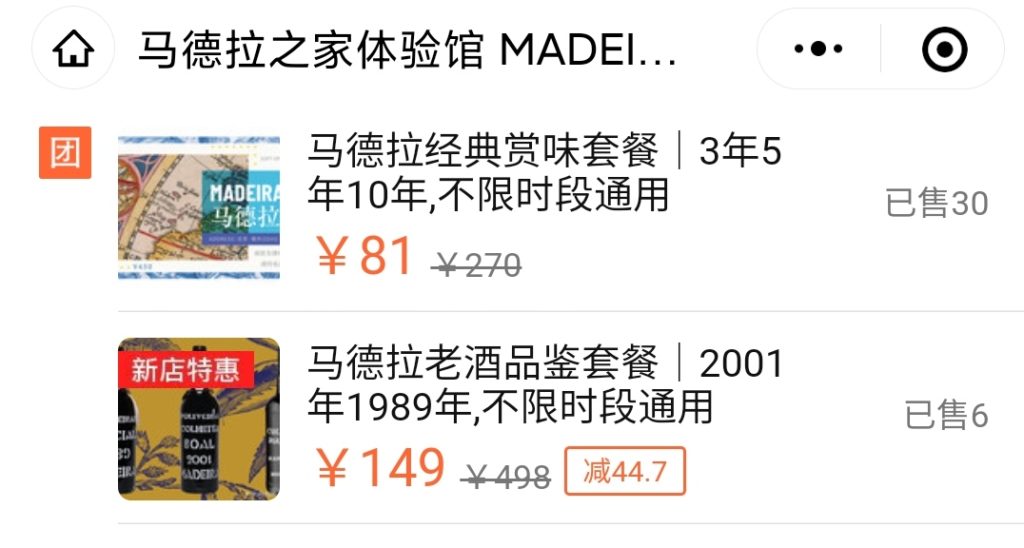 An entry-level tasting flight of 3-, 5- and 10-year-old Madeira is just rmb 81 (regular rmb 270.) There is also a trio of wines, including 1989 and 2001 Madeira, for rmb 149 (regular rmb 498). And the Madeira-based Emerald Love cocktail is rmb 45 (regular RMB 78).
Anyway, as noted, I tried a handful of wines and what strikes most is the balance of acidity and sweetness. These aren't heavy thick and plodding , but lean toward complexity and liveliness.
The first, the Barbeito 'Rainwater', was medium-bodied and medium-dry with caramel, raisin and stone fruit character. And quite fresh. Zhang said this one goes well with hotpot. Rmb 168 per bottle.
Colombo 5 Years Old was a bit funkier, with caramel, nuts, tobacco and deep honey aromas. This was "tighter", with dried apricot and plum character, and a tingly finish. My favorite of the flight. Rmb 280 per bottle.
H.M. Borges Malmsey Sweet Old Reserve was by far the richest wine tried. Sweet, raisin-y, burnt caramel, toasted nuts–the closest to a sticky wine we got. RMB 520 per bottle.
We also tried D'Oliveiras Sercial 1989, a far more complex wine, with dried figs, nuts (filbert?) and coffee aromas. While not big-bodied, this one had an impressive intensity and a tart dried fruit finish. Again, that acidity doing its thing. And to underscore how long these wines last, Zhang said the bottle had been open five months.
Check these words out for yourself. Sign up for the Dianoing deal at the link or reserve a tasting time using the phone number below.
Madeira Home 马德拉之家 is in Chaowai Soho, building B, floor 7, unit B-0755. Reserve a tasting flight spot via Dianping or by calling 6501-0999.
Good content takes resources. If you find Grape Wall useful, help cover its costs via PayPal, WeChat or credit / debit card. Also check out Grape Wall on Facebook. Twitter and Instagram. And sibling sites World Marselan Day, World Baijiu Day and Beijing Boyce.