Natural wine is having a moment in China. A very long moment. I wrote about this scene for Meininger's way way back in October.
(Yes, I know, I was far far from the first.)
The last few months, as the COVID-19 crisis eased, I've seen a steady flow of WeChat posts about natural — and organic and orange and biodynamic and anything other than classic — wines pop up. Such wines are popping up in more restaurant lists and wine promotions, too.
(Yes, some people reading this were guzzling natural / organic / biodynamic wines et al years ago. We even had some in Beijing.)
Frankly, if you go by numbers, the wine scene has been somewhat dire the past few years. So it's good to see people enthusiastic about anything to do with wine.
(Times have been tough. And now we have this Chinese probe.)
While the natural wine scene is especially relevant in Shanghai, and many of its fans are in or related to the wine trade, it's steadily grown beyond that.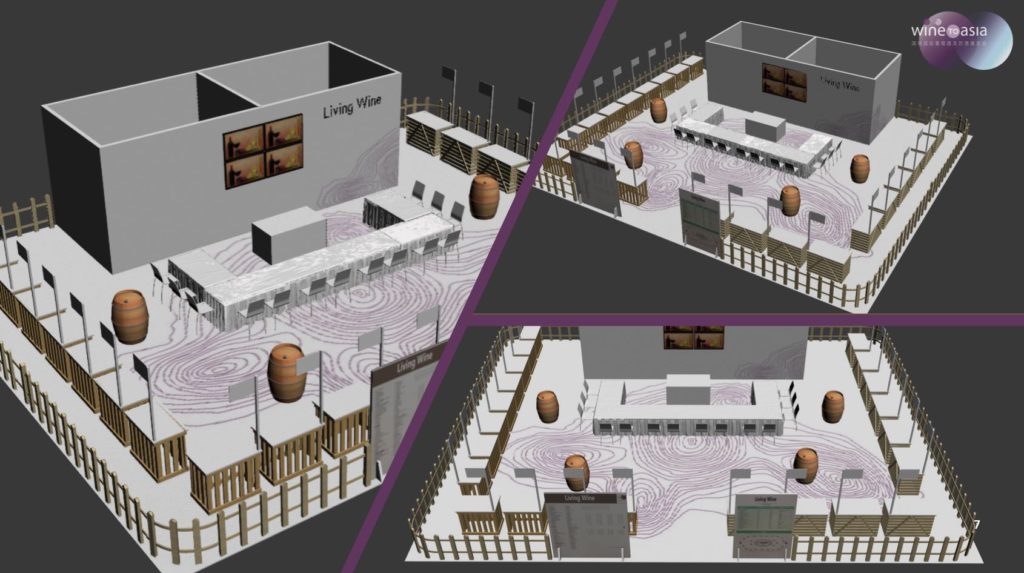 Simone Incontro of Veronafiere says the trend, and notably last year's Ziran Natural Wine Fair in Shanghai, inspired him to add a dedicated area called Living Wine to the inaugural Wine to Asia fair slated for November in Shenzhen.
"Natural wine is a big trend in Asia, including South Korea and Japan," he says. "In China, Shanghai and Beijing will be the epicenters."
But he adds that the hometown of Wine to Asia is also heating up.
"Shenzhen, with bars like the Weeknd and V.O. Lounge, will be the next good place for natural wines," he says.
Incontro also featured Chinese natural wine last year at In Design China in Beijing, and says to expect a repeat performance in September.
But natural wine is also divisive. There are people who love it. People who hate it. And even a few in-between. Vicente Muedra of Sommelier International, who added natural wines to his Spanish and Australian portfolio, knows this well.
"It's trendy for young people, for millennials, you can feel that," he says. "People are definitely super energetic and interested [about the wine]."
Natural wine is popular with younger consumers, wine bars and some of Muedra's private clients, sys Muedra, but most of his older customers are used to a more classic style of wine and sniff at this newcomers.
"They find it unfamiliar," says Muedra. "One of the comments for one of our most successful wines, an orange wine, is that is smells like beer, it's very strange."
But Muedra says overall the immediate future is bright.
"There is a trend of growth for sure and it's going to keep going," he says. "It's super contagious."
"Everybody wants to have those wines," he explains. "It's like a signature thing, they want to be cool, to attract customers, to have a fresh approach. You can't avoid the movement, even if you don't like it, you need to have this."
While Shanghai is the focal point for the movement, we see interest in Beijing, too, a city that gravitates more to beer and spirits.
Two weeks ago, Jinglin Zhang of Italian natural wine importer Grape Paradise put together a tasting at relatively new Tap Bar. This natural wine bar featured over 20 labels, including producers like Alessandro Viola, Marilina and Maliosa. Attendees paid rmb68 per glass, which is pricier than many drink-fests in town, but also means that it attracts a clientele willing to pay for interesting wines.
Anyway, that's three quick snapshots from the natural wine scene. I'm hoping to try more of these wines soon.
Good content takes resources. If you find Grape Wall useful, help cover its costs via PayPal, WeChat or credit / debit card. Also check out Grape Wall on Facebook. Twitter and Instagram. And sibling sites World Marselan Day, World Baijiu Day and Beijing Boyce.