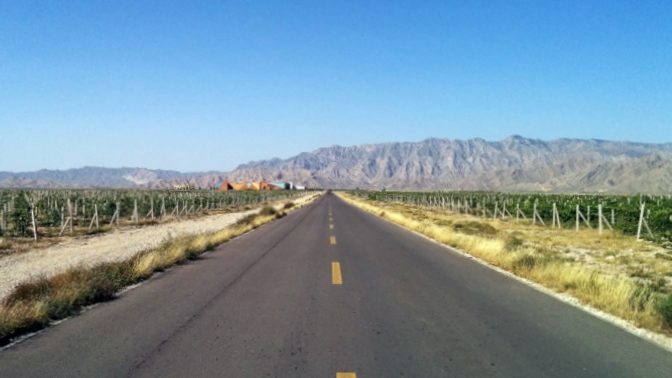 Ningxia has firmly placed itself on the world wine map during the past decade. The region's wines have entered local and global contests en masse, and piled up hundreds, maybe more than a thousand, medals. A steady flow of "vintelligentsia" members — critics, academics, thought leaders, MWs, MSs — has visited to ooh and aah over the region. And the event slate has featured trade shows, conferences, festivals, winemaker and sommelier contests, and more.
The one thing Ningxia has struggled to do? Sell its wine.
At the very least, people I've talked to from Ningxia say sales numbers have not lived up to the hype. And some see their wine stocks growing every year, a concern in a business that generally needs steady annual cash flow. This comes when the Chinese wine market is struggling: local production has fallen or stagnated over the past few years while import numbers are way down.
So it's interesting to see this article from Caijing saying Ningxia plans to quadruple production by 2022. That means going from 120 million bottles per year, many of which are already tough to sell, to 500 million bottles.
Caijing reported this in tandem with a Ningxia wine tourism carnival launch that included unveiling a tourism think tank and announcing the winner for China's top wine tourism area. (Guess who won? If you said Ningxia, you're right!)
I'm pretty busy tonight but here are a few observations:
Maybe I'm missing something but I've made dozens of trips to the region's wineries, across all seasons, and rarely found any visitors there, except for trade people or couples taking wedding photos. Or when a special activity has been arranged. (The rare exception is Yuanshi: it seems to draw a crowd). It's often impossible to do a tasting–and sometimes even to buy wine. Tourism doesn't seem like a safe bet.
Especially as wineries in Hebei and Shandong approach, and even surpass, Ningxia for wine quality, with the advantage of being close to hundreds of millions of potential tourists, including many international visitors. (Ningxia's population is 6.8 million, and one-third are Muslim.)
Wine regions usually take many decades to steadily develop but Ningxia has shown a willingness to quickly shift gears. Just a few years ago, we heard the focus was boutique wineries, and that hundreds were planned. Now the trend is large flagship projects like Xi Ge (Pigeon Hill) that the government hopes can be national leaders. It's hard to say what will happen next, especially because a 400 percent boost in Ningxia's wine production would almost double the size of national production.
One of Ningxia's major advantages is capital. That means money and resources: I think it's safe to say many regions in China, given an equal amount of support, would also win lots of wine medals. But it also means political capital. Ningxia's wine sector fits government efforts to boost inland economies that trail the more prosperous coastal regions. It doesn't hurt that China's President Xi Jinping visited Ningxia some 20 years ago, on an anti-poverty mission, around the same time some key vineyards were planted.
Okay, just a few thoughts. I'll post more on Ningxia later this week.
By the way, the Caijing article quotes the dean of Zhejiang University's College of Tourism as saying wines sales are slow because consumers prefer imported wine and because local wines are pricey. That sounds like a perfect starting point. Conferences, studies and think tanks that cater to the wine trade are fine, but maybe it's an idea to lower prices and do more to reach consumers.

Content takes time and resources. And I don't have advertisers or sponsors. If you find Grape Wall useful, please help cover its costs via PayPal, WeChat or Alipay.
You can also sign up for my free newsletter here. Follow Grape Wall on LinkedIn, Instagram, Facebook and Twitter. And see sibling sites World Marselan Day, World Baijiu Day and Beijing Boyce. Reach Grape Wall via grapewallofchina (at) gmail.com.