By Jim Boyce | Bordeaux winery Ponty, one of Grape Wall's favorite case studies on how to sell wine in China, will launch its WeChat shop during the annual Beijinger Pizza Cup in September, says Helene Ponty.
"I'm pretty excited about it," said Ponty, while on a trip to Wuhu, one of 40 cities she has visited in China since moving here five years ago to represent her family's Canon Fronsac property. "It will allow people to buy from the winery at a very good price."
The portfolio will include Ponty's Bordeaux Superieur at rmb138, delivery included.
Ponty says the shop will be in "soft launch" mode until November and feature three wines—Clos Virolle, Blanc de Grand Renouil and Chateau du Pavillon—all of which she will pour at the Pizza Cup, slated for September 16 and 17 at Wangjing Soho in Beijing. Ponty says anyone who visits her booth will receive a rmb350 coupon to use on orders of rmb1,000 or more from the WeChat shop.
She will later add new wines, either made by the Ponty operation or in collaboration with other vineyards, such as for sparkling or sweet wine.
"It will all be based on customer demand," says Ponty. "We will regularly conduct polls to see what people want, then import small batches to see the demand."
"We can have lots of flexibility and reactivity by controlling everything from production to final sale," she added, before strolling off into the Wuhu evening.
See here and here for previous Grape Wall interviews with Ponty about selling wine in China.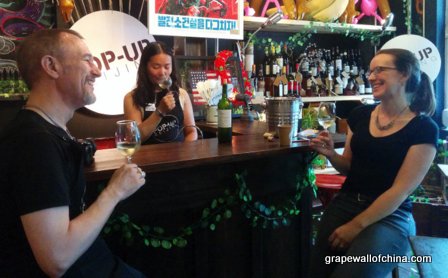 ---
Follow Grape Wall on Facebook and Twitter. Support the project here. And sign up for the China wine newsletter below. Also check out sibling sites Beijing Boyce and World Baijiu Day.
Good content takes resources. If you find Grape Wall useful, help cover its costs via PayPal, WeChat or credit / debit card. Also check out Grape Wall on Facebook. Twitter and Instagram. And sibling sites World Marselan Day, World Baijiu Day and Beijing Boyce.