By Jim Boyce | Resilient* wine bar chain CHEERS will celebrate its sixth birthday on May 6 at 1949: The Hidden City in Sanlitun South. The party will feature free-flow bubbly as well as food, music and hundreds of prizes. Guests can spin the "wheel of fortune" to win items from Plastered 8, Papp's Tea, Moka Bros, Kokomo, Pachakutiq, Paddy O'Shea's, XL, Mikkeller , Caravan and more.
The party goes from 4 PM until late. The 1949 complex is also home to Jing-A, Okra, Traitor Zhou's and Duck de Chine. If you have any questions, email events (at) cheers-wines.com. And check below for the event poster and a gallery of CHEERS photos I've taken over the years.
* Having lived in Gongti-Sanlitun since CHEERS started, I have seen the resiliency of the company as it has overcome many obstacles, including the closing of shops near Yashow (part of our first Maovember charity campaign), at the market itself (home of a nice drinks special) and near the Canadian Embassy (where I watched The Big Lebowski outdoors in near-freezing weather while sipping mulled wine). Good times! Those closing have been offset by the shop on the Sanlitun bar strip (host of a raucous Beaujolais Nouveau party last year) and openings at Tuenjiehue (a Maovember stop this year) and in Topwin (my local).
If you really want to talk resiliency, consider CHEERS had its warehouse burn down in 2010. During the long wait for new stock, the company shifted from business-to-business to retail. Who knows what comes next!?
In any case, CHEERS has ranked among the most intriguing wine companies to watch in China. And it has supported many projects by this blog and sibling Beijing Boyce. All the best for the company's sixth birthday.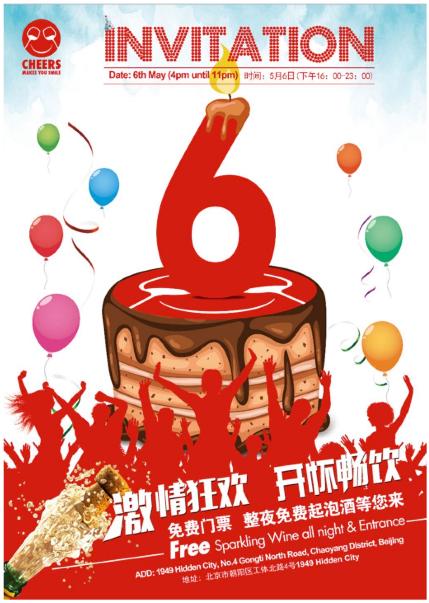 ---
Follow Grape Wall on Facebook and Twitter. Sign up for the free China wine newsletter below. And check out these wine books as well as sibling sites World Baijiu Day and Beijing Boyce.
Good content takes resources. If you find Grape Wall useful, help cover its costs via PayPal, WeChat or credit / debit card. Also check out Grape Wall on Facebook. Twitter and Instagram. And sibling sites World Marselan Day, World Baijiu Day and Beijing Boyce.