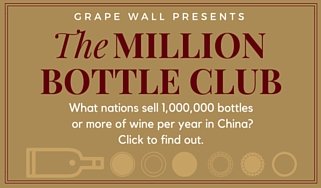 By Jim Boyce | It's time for the annual roll call of Million Bottle Wine Club members. This year's list includes 17 nations that saw at least a million bottles of still wine go through China Customs in 2016. We have one newcomer, Russia, while a surging Ukraine fell just 25,000 bottles short and, with continued momentum, will be in the club next year. Here are the 17 members, followed by those who qualified for the Million Dollar Wine Club
MILLION BOTTLE WINE CLUB
250 million+ bottles
France
100 million+
Australia
50 million+
Spain
Chile
25 million+
Italy
10 million+
United States
South Africa
5 million+
Portugal
Argentina
Germany
2.5 million+
Moldova
Georgia
New Zealand
1 million+
Canada
Hungary
Romania
Russia
The list for the Million Dollar Wine Club, is a wee bit longer. Last year, 22 nations saw at least USD1 million in declared wine in China Customs. France narrowly missed being the first Billion Dollar Wine Club member, falling just 30 million short, while Australia inched over the half-billion line. Russia, Ukraine and Macedonia are all new members to the club.
MILLION DOLLAR WINE CLUB
500 million+ USD
France
Australia
100 million+
Chile
Spain
Italy
50 million+
United States
25 million+
South Africa
10 million+
Argentina
New Zealand
Portugal
Germany
Georgia
5 million+
Canada
Moldova
2.5 million+
Hungary
Romania
1 million+
Austria
Bulgaria
Russia
Macedonia
Ukraine
Montenegro
See here for comments and stats re the top ten sources of imported wine in China, here for 2015 and 2014 Million Bottle Club members and here for 2015 Million Dollar Club members.
---
Follow Grape Wall on Facebook and Twitter. Sign up for the free China wine e-newsletter below. And check out these wine books as well as sibling sites World Baijiu Day and Beijing Boyce.
Good content takes resources. If you find Grape Wall useful, help cover its costs via PayPal, WeChat or credit / debit card. Also check out Grape Wall on Facebook. Twitter and Instagram. And sibling sites World Marselan Day, World Baijiu Day and Beijing Boyce.