By Jim Boyce | Gérard Colin, an influential figure in China's modern wine industry, died yesterday in France. He was 75. Colin came to prominence as the first winemaker at Grace Vineyard in Shanxi, now widely seen as one of China's key wineries. It was a good pairing given his experience in Bordeaux and Grace's use of varieties such as Cabernet Sauvignon, Merlot and Cabernet Franc. But it was only one stop for a man whose work took him from Xinjiang in the west to Shandong in the east to Xiamen in the south.
Born in Madagascar, Colin was schooled in France and did a master of oenology degree at Bordeaux University in the 1960s. He spent over a decade at Chateau Teyssier in Saint-Emilion. His interests took him in many directions, whether to work on the commercial side at Château Clarke, head to the Caribbean for a sugar cane alcohol project, or start a consulting company.
He first came to China in 1997, for a three-month stay in Fuzhou, then joined Grace in 2001. He was a welcoming figure for the growing flow of intrigued visitors. Alberto Fernandez of Torres, the first major distributor to handle Grace, said of his initial visit: "Gerard Colin received me with a big hug." If Fernandez's experience was like mine, Colin did so with a glass of wine in one hand and a cigarette in the other.
Snippets from this article about Colin say a lot about his attitude toward wine and China:
It is 10:30. In the cellar, Gérard Colin tastes a Cabernet Sauvignon 2004. "We just pressed it and got it out of the tank yesterday, it's a baby for whom we just cut the cord. It's very young, it's special."
Our glasses are filled with a Merlot… full of carbon dioxide. Real fruit! It looks more like a grape juice yet it has 13.5 degrees of alcohol. "That is the best compliment you can give me," said Gerard. "I have respected the raw material!"
"I am the only one going to the village, talking to the peasants, laughing with them and drinking tea. I hope they see it as consideration and respect. I am not a colonist, I just bring them technology, I empower them through training. When I make them taste their wine, I put down a white tablecloth!"
Colin soon found himself much in demand, whether for consulting on groundbreaking projects, speaking at conferences, hosting high-profile tastings or being interviewed by media.
He created plenty of buzz in 2009 when he became director of the Domaines Barons de Rothschild (Lafite) project with CITIC in Shandong. The team faced incredible challenges, he explained:
… in choosing Penglai, we knew that major works would have to be undertaken. Our teams have developed 30 hectares of hills, removing 40,000 tons of stones and building more than 9 kilometres of dry stone walls around the plots. The vineyard consists of 30 plots and more than 200 terraces.
Major works, indeed. Colin was then nearly 70 and still going strong, with projects at Puchang in Xinjiang and Taila in Shandong yet to come. But by then, his place in China wine history was secure and his unexpected death this week will no doubt have many trade people reflecting on his influence.
---
Note: My earliest contact with Colin came via wines like his 2013 Grace Cabernet Franc that made me believe in China's potential. My strongest memory is from 2012 and the first Ningxia Wine Challenge. It had an equal number of Chinese and non-Chinese judges, headed by Ma Huiqin and Jancis Robinson, and Colin was a natural choice. During the event, several people asked if Colin were sick, as he kept leaving the room. An investigation revealed he was sneaking smoke breaks!
After the event, I asked about the early Grace vintages, the 2003 Cabernet Franc, the 2004 Cabernet Sauvignon he called special. He seemed both happy to reminisce and talk about his exciting new projects. That attitude to life will live on with many who knew him, just as the taste of those early wines still influences me, even if all that remains are empty bottles. Rest in peace, Gerard Colin.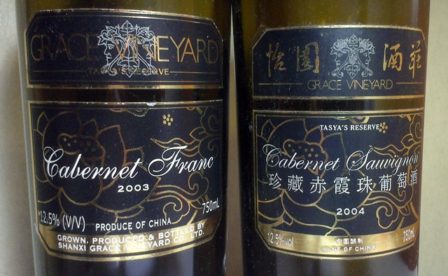 ---
Sign up below for my China wine e-newsletter. Check out these books about wine and my sibling sites World Baijiu Day and Beijing Boyce.
Sign up for my free newsletter here. Also follow Grape Wall on LinkedIn, Instagram, Facebook and Twitter. And see sibling sites World Marselan Day, World Baijiu Day and Beijing Boyce. Good content takes time and resources. If you find Grape Wall useful, please help cover its costs via PayPal, WeChat or Alipay. Reach Grape Wall via grapewallofchina (at) gmail.com.