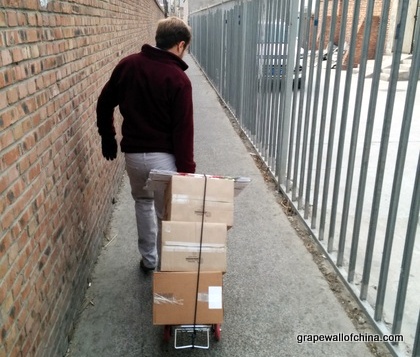 By Jim Boyce | Who doesn't dream of being a wine importer / distributor and thus spending long days sampling exotic bottles paired with excellent nibbles as the orders pour in from rich clients and the deliveries pour out courtesy of a diligent staff and your bank balance rockets like a cork gone skyward. If you're smart, you'll realize that particular interpretation of the job is, indeed, a dream.
Reality tends to involve a long chain of frustration from overseas producers with unreasonable market expectations to border officials with reasonable (to them) rules interpretations to landlords with not-so-flexible attitudes to sub-distributors doing who knows what with your products to hotels and restaurants seeking free samples or placing an order for a single bottle to regular customers who are increasingly savvy and demanding or, if not, who simply want to bargain down to the last kuai. That means being proficient in regulatory knowledge, landlord negotiation, marketing and sales, stress control and much more. It also means that once in a while, when your staff isn't around, you have to load up a dodgy cart with booze and lug it to a customer.
Mariano Larrain of La Cava de Laoma in Beijing knows this well, although I think it's safe to say that after several years he has smoothed out part of the frustration chain and now has a good number of appreciative customers. Anyway, the photos below show him testing out the shop's cart, and the city's streets and alleys, as he makes a delivery. Such occasions are also a good way to hone your reflexes in the face of oncoming scooters and cars. Given we are in the midst of a sweltering summer, it's obvious these photos were taken months ago, but rest assured that winter chill made this delivery even more fun for him.
---
Sign up below for my free China wine e-newsletter. See here for ways to support Grape Wall. And check out sibling sites World Baijiu Day and Beijing Boyce.
Good content takes resources. If you find Grape Wall useful, help cover its costs via PayPal, WeChat or credit / debit card. Also check out Grape Wall on Facebook. Twitter and Instagram. And sibling sites World Marselan Day, World Baijiu Day and Beijing Boyce.