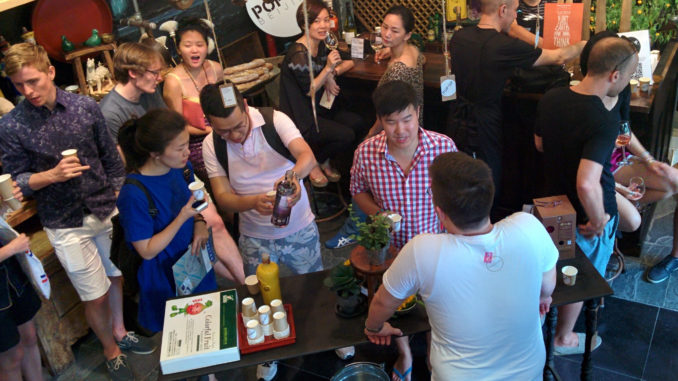 By Jim Boyce | When you say white wine in China, people are far less likely to think of Chardonnay or Riesling and more of China's grain-based national spirit, one that typically packs a punch of more than 52 percent alcohol.
It's called baijiu, uses a unique production method, encompasses a wide range of styles, and, in terms of sales, is a jeroboam against wine's half-bottle. So, why am I writing about this on Grape Wall?
Last year I launched an annual event called World Baijiu Day that is rolling around again. With twelve days to go, we have 40 venues in 25 cities participating, everywhere from London to Los Angeles, Milan to Melbourne, Paris to Beijing.
And while most people experience baijiu as a series of "ganbei" (bottoms up) toasts that leaves their heads spinning and massive hangovers looming, our focus is beyond that. We're using this spirit for cocktails, infusions and liqueurs, for baijiu-inspired foods like pizza and chocolate, and for flights and food pairings.
World Baijiu Day is August 9, a date that roughly translates to "ba jiu", but we're supporting events from August 1. If you've never tried this spirit, or at not beyond "ganbei style", then see what we're up to on the World Baijiu Day site. It includes the WBD mission, news, event details, and more. Check out the poster here.
Like Grape Wall, this is not a money-making project. If you'd like to support it or this site, click here.
---
Sign up below for my free China wine e-newsletter. See here for ways to support Grape Wall. And check out sibling sites World Baijiu Day and Beijing Boyce.

Content takes time and resources. And I don't have advertisers or sponsors. If you find Grape Wall useful, please help cover its costs via PayPal, WeChat or Alipay.
You can also sign up for my free newsletter here. Follow Grape Wall on LinkedIn, Instagram, Facebook and Twitter. And see sibling sites World Marselan Day, World Baijiu Day and Beijing Boyce. Reach Grape Wall via grapewallofchina (at) gmail.com.