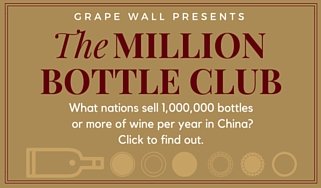 Which 16 countries sold a million bottles of wine to China last year? And which 20–with three oh so close–achieved the easier task of sending a million dollars worth of vino our way? The two graphics below reveal all. By the way, the Chinese word for million is 百万 (bÇŽi wà n ) has the characters for 100 (bÇŽi / 百) and 10,000 (wà n / 万).
---
If you'd like to get the free Grape Wall e-newsletter, sign up below.
Good content takes resources. If you find Grape Wall useful, help cover its costs via PayPal, WeChat or credit / debit card. Also check out Grape Wall on Facebook. Twitter and Instagram. And sibling sites World Marselan Day, World Baijiu Day and Beijing Boyce.