Nova Cadamatre of The United States is one of 48 candidates from 18 nations participating in the two-year Ningxia Winemakers Challenge (NWC) that started in September of 2015 and pairs foreign winemakers with local wineries. She is director of winemaking for Constellation at Canandaigua Winery in New York State, has worked at Robert Mondavi, Souverain, Beringer Knights Valley and Chateau St. Jean, and writes about her experiences here. This Q&A focuses on her first visit to Ningxia last September.
What was your travel route to Ningxia?
I traveled from Rochester to Chicago then Chicago to Beijing and Beijing to Yinchuan. The individual flights were 1.5 hours to Chicago, 13 hours to Beijing, and 2 hours to Ningxia, not counting layover time which was significant.
The winery partners for NWC range from big producers to boutique operations, the accommodations span the capital of Yinchuan to more than 100 km away, and the equipment varies from place to place. How is your winery partner and situation?
Lansai is great! It is such a beautiful winery. It is small by Ningxia standards but brand new so there is lots of great equipment and I was able to find everything I needed to make the wine. The winery owners are extremely friendly and I feel we have a great partnership. I stayed at the winery, which is about 40 minutes from Yinchuan, so we could get to the city quite quickly.
Each winemaker had three hectares of grapes to use. What was your fruit quality like? Given persistent worries of rain, when did you decide to harvest?
I would say my fruit quality was average from what I've seen in my career. I was quite lucky that I didn't have any disease issues in my block but fruit shading was a big issue as was uneven ripening. I did pick on the early side before the rain. If I've learned anything from my 13 years of winemaking it is that it is always better to pick pre-rain.
We were quite strict in sorting and sorted out a little over a ton of fruit of the 15 that we received. That level of selection really contributed to the quality of the wine and the team was so amazing! It was definitely the most detail-oriented sorting crew I've ever worked with. It took 18 hours to sort 15 tons!
What do you consider the biggest short-term and long-term challenges for Ningxia?
The biggest short-term challenge seems to be winemaking knowledge. It's a relatively young winemaking region and some things can only be learned from experience. Some of the wines I tasted there had minor issues that could easily be fixed through winemaking intervention.
The fruit quality from the vineyard we got was surprisingly good considering how the vineyard looked and I was extremely impressed with the quality of fruit from the vineyards where they had the vines on VSPÂ [vertical shoot positioned trellising] and leaf pulled to let the fruit be exposed to sunlight and air flow.
Another short term challenge is what to do with all the saignee rose wine that results from making high-quality Cabernet. I don't think I spoke with a single winemaker who didn't have some level of saignee, or bleeding off of juice after crushing. It would be good to foster a taste for rose in the region and beyond so that these wines don't go to waste and can be enjoyed on their own merits.
The biggest long-term challenge is going to be having the rest of the winemaking world acknowledge that Ningxia has good quality wines. Until the entire region brings consistent quality year after year this may be challenging. However, they are off to a good start with the recent press they have received both from the visits from the global trade and through this competition.
You've made wine everywhere from Napa to New York State, in places with very different climates. How did the Ningxia wine regions fit into that experience?
Ningxia is unique. The winters are cold like New York. The growing season is not as long as in Napa but they are longer than in New York. It seems like Cabernet is a good fit there based on what I have seen and tasted. I think the summers are probably too hot for Pinot Noir but perfect for Bordeaux varieties. The low humidity definitely helps but there is also the late season rain to be concerned with. It is not an easy region to grow vines but I think that the struggle is worthwhile.
Besides participating in NWC, did you experience any interesting foods or sights?
I was in and out pretty quickly during the harvest but I did get to experience some of Ningxia's great food. I absolutely fell in love with the "Chinese pancakes" [葱油饼 | cōngyóubǐng] that our winery cook made out of eggs, flour, and green onions. I loved them so much that after I came home I found a recipe and now I make them at home for my family, too!
I also loved going shopping in the Drum Tower district. It had tons of carved Helan Mountain stones. I brought back many gifts for my family and friends and these carved stones made perfect gifts. I also got to witness Chinese negotiating at its finest while shopping.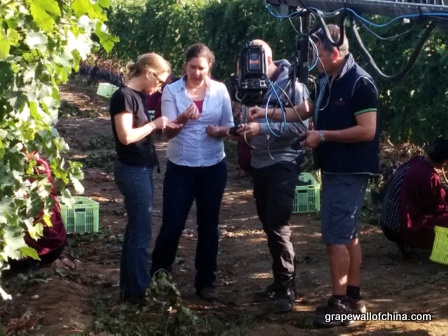 ---
See more "Meet the NWC Winemakers" posts here. And if you'd like to get the free Grape Wall e-newsletter, sign up below.

Content takes time and resources. And I don't have advertisers or sponsors. If you find Grape Wall useful, please help cover its costs via PayPal, WeChat or Alipay.
You can also sign up for my free newsletter here. Follow Grape Wall on LinkedIn, Instagram, Facebook and Twitter. And see sibling sites World Marselan Day, World Baijiu Day and Beijing Boyce. Reach Grape Wall via grapewallofchina (at) gmail.com.