---
Helan Qing Xue is marking its tenth anniversary this month, marking a decade during which it and fellow wineries like Silver Heights and Helan Mountain have helped put the Ningxia region on the world wine map. And it's still going strong. I tried several newer HQX wines this week and they showed this winery deserves its rank among China's best. I especially enjoyed the newish Qing Xue label, a less expensive alternative to flagship Jia Bei Lan, for its balanced fruit and oak. Tasty.
The anniversary will no doubt bring many mentions of HQX being the first winery in China to receive, in 2011, an "international trophy" at the Decanter World Wine Awards. That win inspired cynical pokes at Decanter from some in the wine trade, who thought the victory seemed too convenient for a publication seeking a bigger China presence and wondered if there was actually, say, French wine in the bottle.
I posted responses to those accusation and later interviewed Decanter owner Sarah Kemp about the brouhaha–see here. Those who thought my aim was to defend the magazine missed the bigger point. My ire was directed at the assumptions that any wine from China must be a fraud. Especially since those making the assumptions knew little about the context surrounding Jia Bei Lan, including the hard work that went into the wines and the many critics who had tried them before that contest. See this post Decanter and Jia Bei Lan: Was It Really Chinese Wine? for full details.
While the winery and award will long be intertwined, there is far more to Helan Qing Xue. General manager Rong Jian has overcome many obstacles in creating this success story while Beijing-based consultant Li Demei has provided critical direction on the wine-making side. Other wineries have been able to learn important lessons from HQX along the way, including in the winery, the fields and marketing campaigns. It has also been good to see winemaker Zhang Jing fine-tune her craft by traveling to regions in New Zealand, Australia and The United States to see how things are done there. I've had the chance to interview after two of those visits–see here and here.
I'll post more about Helan Qing Xue, which works with distributor The Wine Republic to sell its wines, after I make a visit to Ningxia and get some time to dig up old photos. For now, here are a few from over the years: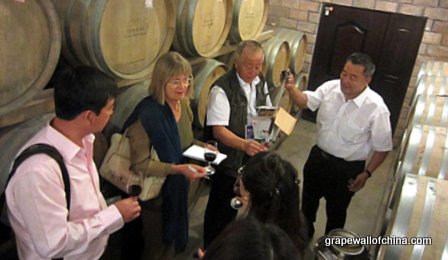 Good content takes resources. If you find Grape Wall useful, help cover its costs via PayPal, WeChat or credit / debit card. Also check out Grape Wall on Facebook. Twitter and Instagram. And sibling sites World Marselan Day, World Baijiu Day and Beijing Boyce.