By Jim Boyce
Inner Mongolia winery Chateau Hansen, just over the border from the Helan Mountain wine area in Ningxia, is looking at a good vintage, says winemaker Bruno Paumard. While there were some issues with flowering and with millerandage (grape clusters with berries that are not uniform in size or ripeness), he says there is more concentration this year.
Paumard is targeting 6000 tons of grapes. On his vineyard, he has reduced yields to boost quality and will supplement it by buying from other growers, the amount depending on price per kilo. He adds that Hansen's substantial cellar — it already has 2500 barrels — is nearly complete.
Several people have asked me if Hansen is available overseas. Paumard says it is now exported to Denmark and Australia and will also soon be seen in the UK and French markets.
The photos below are from about a week ago.
See also: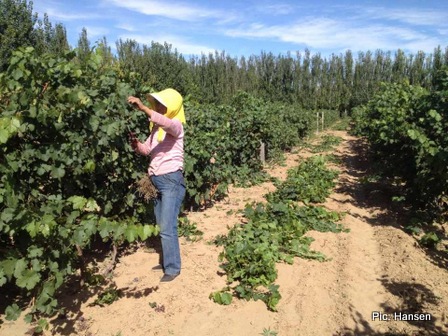 Sign up for my free newsletter here. Also follow Grape Wall on LinkedIn, Instagram, Facebook and Twitter. And see sibling sites World Marselan Day, World Baijiu Day and Beijing Boyce. Good content takes time and resources. If you find Grape Wall useful, please help cover its costs via PayPal, WeChat or Alipay. Reach Grape Wall via grapewallofchina (at) gmail.com.