By Jim Boyce
1421 Wines are made in Xinjiang, bottled in Shandong and sold throughout China. The winery gets its name from a book that claims legendary Chinese admiral Zheng He set sail with a huge fleet in 1421 and discovered Australia, Antarctica, South America, North America, well, pretty much everything except Atlantis. This theory isn't so much hotly disputed as it is dismissed by academics but it does make for an interesting brand.
Anyway, 1421 Chardonnay and Cabernet Sauvignon come in three levels — Silver, Gold and Admiral's Reserve — and the company held a tasting of those first two last week at Scarlett Bar in Hotel G in Beijing. (I like the retro decor, the three-sided bar and overall feel of this spot, not to mention the "classics" they screen. Where else in town can you enjoy some wine while watching — sound off — Alfred Hitchcock's Psycho?)
I go to a quite a few tastings where the crowd seems divided into those bored senseless and those trying to outdo each other with arcane wine information. At the 1421 tasting, I simply saw people trying four wines, talking about which ones they liked, and generally enjoying themselves. Good times.
Want a taste? 1421's Randy Svenden says the wine is available in Beijing by the glass at Hotel G, Mokihi, Little Saigon and Raffles Hotel.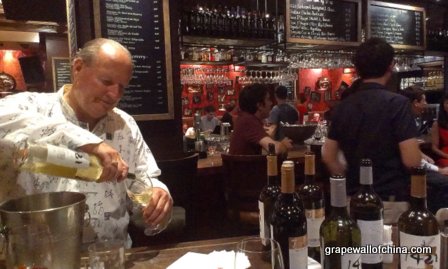 Good content takes resources. If you find Grape Wall useful, help cover its costs via PayPal, WeChat or credit / debit card. Also check out Grape Wall on Facebook. Twitter and Instagram. And sibling sites World Marselan Day, World Baijiu Day and Beijing Boyce.