By Jim Boyce
Andrew Caillard, best known as one of Australia's first Masters of Wine and publisher of Langton's Classification of Australian Wine, is also associate producer of the China wine documentary Red Obsession. As the documentary made its red carpet premier in Caillard's home base of Australia this week, he was fulfilling a commitment to explore vineyards in China's northwest region of Xinjiang and took time for a short Q&A.
How would you describe 'Red Obsession' in a few sentences?
'Red Obsession' is almost like a thriller about China and the passion for wine. It's a tale of the rise of the middle class in China and its voracious appetite for luxury goods as seen through the prism of Grand Cru Class Bordeaux.
What's the plot?
It's a film in three acts. The first follows the 2010 en primeur campaign and the escalation in price of First Growth Bordeaux, especially Chateau Lafite. It also tells the story of the aspirations of the Chinese wine industry and of the new regions opening up in Ningxia, Xinjiang and Shandong. The final act is the extraordinary change in market sentiment [for Grand Cru] and the aftermath of the massive hangover from the damped down enthusiasm of the China market.
Who's the most intriguing character?
Peter Tseng, a maker of sex toys in Shenzhen. I actually know him. He's a big wine collector. He's also the biggest manufacturer of sex toys in the world.
On the French side, Christian Moueix, because he speaks about wine in such a philosophical and beautiful way. He gives you a sense of what fine wine is all about without sounding like a wanker.
Also, Fongyee Walker, who is half-Chinese and half-English, and serves as a bridge between Chinese and Western ideas. She uses examples from her family to explain the difference between China and the west.
Where has it been and where will it be shown?
It premiered at Berlin in February. Then it had a screening at Tribeca, where Robert Di Niro called it one of his two favorite films. It's been at several other film festivals around the world , including Seattle, Sydney, Melbourne, Helsinki, Moscow, Athens, Pusan and Warsaw.
Australia gets its theatrical release on August 15, it will be released in the United States in September and Scandinavia in October, and further releases will depend on success in Australia and the U.S. It's very unusual for a documentary in Australia to get a theatrical release and the signs are already good.
Note: Red Obsession is directed by David Roach, produced by Warwick Ross, who is an owner of winery Portsea Estate, and narrated by Russell Crowe. You can see the official website and trailer here.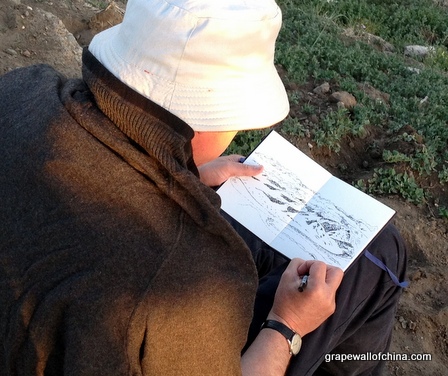 Good content takes resources. If you find Grape Wall useful, help cover its costs via PayPal, WeChat or credit / debit card. Also check out Grape Wall on Facebook. Twitter and Instagram. And sibling sites World Marselan Day, World Baijiu Day and Beijing Boyce.