~
By Jim Boyce
When I visited Hong Kong in November, I went to the fortieth birthday party of Patricio de la Fuente-Saez, head of wine importer and distributor Links Concept. I was supposed to spend the night preparing for a speech the next day but I couldn't resist the combination of him and a disco theme and wine maker Dave Powell from Torbreck — in town from Australia — since it meant the possibility of enough wild stories to fill this blog for a year.
Unfortunately, de la Fuente-Saez and his fellow party-goers were rather well-behaved, although they took the disco theme to heart in the most big-haired bell bottom-panted way possible, all while shaking their groove things to a band (see photos below). Also of note: the buffet had enough chicken nuggets — with three dipping sauces — to feed the entire city. The only thing missing was John Travolta arriving as Tony Manero.
Anyway, it's good to see the wine crowd let its hair down — or maybe, in this case, out — and hope we see some of the same here in Beijing this year.
See also: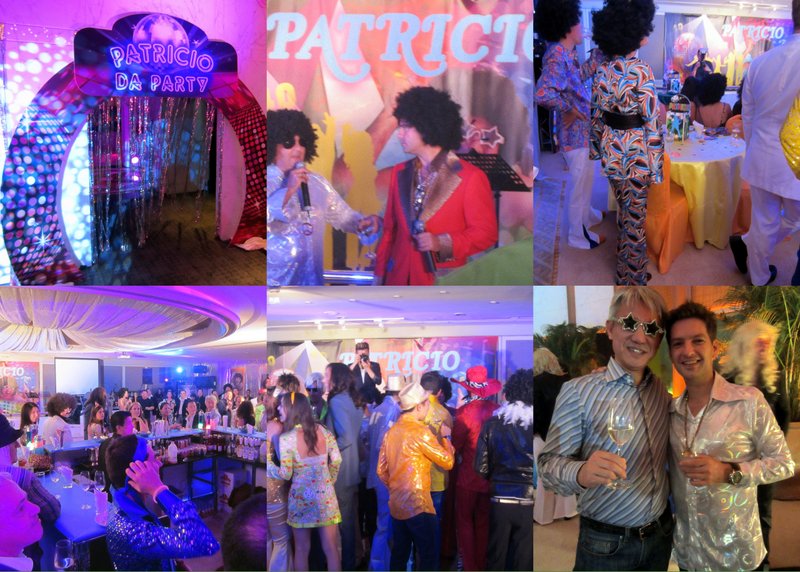 Good content takes resources. If you find Grape Wall useful, help cover its costs via PayPal, WeChat or credit / debit card. Also check out Grape Wall on Facebook. Twitter and Instagram. And sibling sites World Marselan Day, World Baijiu Day and Beijing Boyce.