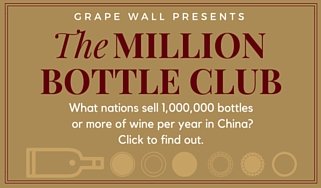 Which 16 countries sold a million bottles of wine to China last year? And which 20–with three oh so close–achieved the easier task of sending a million dollars worth of vino our way? The two graphics below reveal all. By the way, the Chinese word for million is 百万 (bÇŽi wà n ) has the characters for 100 (bÇŽi / 百) and 10,000 (wà n / 万).
---
If you'd like to get the free Grape Wall e-newsletter, sign up below.

Content takes time and resources. And I don't have advertisers or sponsors. If you find Grape Wall useful, please help cover its costs via PayPal, WeChat or Alipay.
You can also sign up for my free newsletter here. Follow Grape Wall on LinkedIn, Instagram, Facebook and Twitter. And see sibling sites World Marselan Day, World Baijiu Day and Beijing Boyce. Reach Grape Wall via grapewallofchina (at) gmail.com.