Posted on | September 19, 2013 | No Comments
~
By Jim Boyce
When Kent Tseng isn't flying over the flower-strewn fields in Xinjiang as part of a wine tour (above), she is working as deputy GM and executive editor of Wine magazine in Guangzhou. During a recent trip to western China, I asked her a few questions about how she got interested in wine and what she thinks of Chinese labels.
How did you get involved in wine?
I used to work for expat magazines like City Talk when I was a student in Guangzhou. I was doing a column on food and beverage, and getting exposure to chefs and Western-style restaurants, and I had the chance to learn about wine step by step. In 2008, an editor where I previously worked was at a lifestyle magazine and wanted to change the focus. We discussed it and decided on a wine magazine since there were quite a few appearing in China. The best-known was Food and Wine but it was not specifically focused on wine.
How is Wine different from other magazines in China?
It's focused on lifestyle, from a wine point of view. We have articles on travel, tastings, food and wine pairings. We look at fashion, music and so on. We want to interpret life through wine.
Who are your readers?
The target is 25 to 40 years old. Half are in the industry and half are consumers. We have readers up to 60 years old but most are 25 to 40.
How has the magazine changed over the years?
In the beginning, we were similar to RVF [La Revue du Vin de France]. We wrote about wine styles and wine regions and talked about the big name brands in wine. After that, we tried to more closely reflect the reality of the China market. We changed columnists many times, and tried to make readers understand wine rather than present a lot of technical information. We included articles on books, music, art, all related to wine.
How does Guangzhou's wine scene differ from elsewhere in China?
Posted on | September 19, 2013 | 1 Comment
By Jim Boyce
I wrote an article about the state of local wines for the Chinese edition of La Revue du Vin de France that was published in the June issue with the results of a tasting of more than 100 Chinese wines. My English draft is below, with a few changes and updates.
~
I recently tried a handful of wines from Penglai in Shandong province as part of a tourism campaign. One of the wines was shockingly bad. A magazine editor near me said: "It smells like a hospital". Even the best wines, priced at more than rmb500, were simple and, in turn, poor value. I felt that asking consumers to visit Penglai to drink some of these wines was like asking people to go on a ski trip to a mountain with almost no snow. And I joked the best thing for Penglai tourism was to use wine from the upcoming region of Ningxia one thousand kilometers due west.
That joke might sound mean but it is also revealing. Five years ago, I might have written, "use French wine" or "use Australian wine". But now China has reached the point where there are quite a few operations and regions making fairly good wine. We have stopped talking about if there is good wine in China. Now we talk about which ones are the best.
I was reminded of this recently when the manager of one of Beijing's top restaurants called me and said that six tables of diners were drinking Chinese wine at that very moment. Not long ago, he might have meant wines from big producers like Great Wall or Changyu being consumed ganbei-style [bottoms up]. Or perhaps wines from Grace Vineyard, which was for quite some time about the only reliable producer in China.
Now he means wines from the increasing number of operations that offer better quality and better prices. In other words, better value. These include family-owned Silver Heights and foreign-invested Domaine Helan Mountain in Ningxia; Chateau Hansen in Inner Mongolia, which also uses grapes from Gansu and Ningxia; 1421, which is based in Shandong and bottles wine from Xinjiang; and Great River Hill in Shandong. These are some of the better operations [based on value], found across the country, and more are on the way.
But making decent wine is one thing and getting that wine to consumers is another. The most common question I get as a blogger is: "Where can I find good Chinese wines?" Fortunately, we are also seeing major changes in the distribution of these wines.
First, more distributors are adding Chinese wines to the portfolio. Torres is the veteran, distributing for Grace and Silver Heights. But the past year or so has seen The Wine Republic add Ningxia-based Helan Qing Xue and China Wines & Spirits work with Chateau Hansen. Great River Hill is talking to several distributors and will hopefully have a deal soon. [And Pernod Ricard is handling its own brand, Helan Mountain.]
Second, top restaurants, bars and hotels are listing more Chinese wines because of demand. Here in Beijing, Temple has stocked more than a dozen Chinese labels since it opened, including Grace, Silver Heights, Helan Qing Xue, Sunshine Valley and 1421. Maison Boulud, in Chi'enmen 23, and Grill 79 in China World Summit Wing, the highest building in Beijing, both have more than ten options. The Grand Hyatt recently revised its China wine list to include sixteen wines and sell Chateau Hansen by the glass.
These are not token wines. These are wines added due to greater consumer interest. There are dozens more places stocking Chinese wines, including pizza chain Gung Ho, which has Chardonnay and Cabernet Sauvignon from Grace available for delivery! [Alas, Gung Ho is no longer carrying the wines.]
Third, more retail outlets are carrying good Chinese wines. In Beijing, Jenny Lou's and Jenny Wang's have carried Grace and Helan Mountain wines in the past. There are also outlets that range from Everwines, which carries the Torres portfolio, to Mali Wine Shop in Guomao, which includes 1421 among its more than 100 options. Metro stores around China also carry 1421. On top of this, wineries also have their own dedicated shops.
Finally, these better Chinese wines are increasingly available via the Internet, whether by the distributors' own websites or by online wine retailers. And Grace Vineyard is taking this one step farther. This year, it will sell almost all of its 2010 Sonata — a blend of Cabernet Sauvignon, Merlot and Marselan – online. Consumers can sign up to buy either six bottles or twelve bottles for rmb399 each, first come, first served. This is an attempt to give smaller wineries, and especially those that are making good wine, a chance to reach consumers in a market that is dominated by a few major producers.
This is not to say that all, or even a majority, of the wine made in China is good. The reality is that producers who consistently make good wine have been the exception, not the rule. Much of the wine made in China is still done with an eye more to marketing than to quality, there is a good deal of blending of imported bulk wine with Chinese wine, and prices — with some bottles costing thousands of renminbi – often bear no relation to wine quality. But the number of exceptions is growing, and so is the number of places where consumers can get them, and this is what makes the China wine scene so exciting.
* I have done a few one-off projects with Ningxia, including a recent speech in Hong Kong and helping to bring seven foreign wine-makers to visit the region last fall.
Posted on | September 18, 2013 | No Comments
~
We're sipping beer on rickety stools under a makeshift tent in front of a kebab joint at midnight in Laixi — population 700,000: a modest number by China standards — as the vineyard manager from nearby Great River Hill explains how he forked over a hefty rmb2500 to save a donkey from becoming burgers at a local eatery. The restaurant owner pegged the price so high because he said the donkey was male and thus heavier. The manager's inspection suggested the opposite sex, an observation the owner did not let go unchallenged. "Guy said, 'Donkey's too young. No balls'."
Whatever the case, a few more beers and ten hours later we are at the vineyard, in Shandong province, and see the donkey, Jose, hanging out near the Cabernet and doing its part by providing free fertilizer. Jose is part of the vineyard "zoo" that includes a bunch of pigeons, several dogs and a big carp, the only one of 20 left after nearby villagers apparently came with electric prods and cleared the pond.
I mention all this because the typical winery I visit in China is nothing like this. Those visits usually involve a quick walk around some fancy grounds before heading into a vast marble-floored "chateau" with sprawling cellars, sanitized classrooms and large shops full of expensive — and usually over-priced — wine. Those places are meant to evoke a lifestyle, I suppose, and typically have more the atmosphere of a shopping mall.
You could say Great River Hill is more "real". The donkey, the pigeons and the goats. (Did I mention the goats? There are nine of them, and they do roam, munching grass along the way.) The mix of tractors old and new, the highlight being a Lamborghini complete with air-conditioning (see below). The modest clubhouse and cellar under construction. And the low-budget nursery with some 180,000 cuttings. The focus here is on the vineyard — not on whether to add more gold leaf to the atrium ceiling or a hundred additional showcase barrels to the cellar — and if a few stray animals are part of the scenery, so be it.
Great River Hill is a relative loner in these inland parts far from the traditional wine-producing powerhouse of Penglai on the coast. Vine planting started here in 2008 after, I'm told, the rockier portions were pulverized by dynamite and then topped with soil. Two-thirds of the 100 hectares allocated for vineyards is planted and, when all is said and done, the mix is expected to be 10 percent white, namely Chardonnay, and 90 percent red, split 70 percent Cabernet Sauvignon, 10 percent each Merlot and Petite Syrah and 5 percent each Cabernet Gernischt and Syrah.
The site provides good drainage, important as it saw over 500 millimeters of rain in July alone. Consultant and winemaker Marc Dworkin compares it to Medoc – except for that summer rain. Senior management includes GM Maros Breda and land manager Sidney Blazek from Czech, sales director David Kempf, who like Dworkin is from France, and production director Yanan Hao from China, the youngest of the crew and a graduate of China Agricultural University. The key investor behind the project is Karl Hauptmann, who also has other wine projects, including in Germany and Bulgaria, where Dworkin is also involved.
Great River Hill has its challenges. Everything from row posts to vines to the aforementioned carp tend to disappear, even in broad daylight. Importing vines from France was a painful process that took more than six months. Setting up distribution of the first vintage — 2011 — has not been easy. Finally, because the wine is surprisingly good for Shandong, with its reputation for weak wines and including imported bulk, and because its winery is in distant Penglai, Great River Hill faces suspicions that what's bottled so far might not be wholly from the site. I've tried the wines a dozen times and given them to many other people. I generally see two reactions: "This is good!" and "Huh? This is from Shandong?".
I know this issue irks management, and I've been assured the wine is made with local grapes, but it is nevertheless a common reaction. In Great River Hill's defense, two further points. One: The amount of effort put into the site and, based on what I saw, the dedication of the team as it engaged in intense and incredibly blunt strategy sessions, show a serious focus on making good wine. Two: one of China's top wine consultants hails from Laixi, has tried the wines and says they fit the profile of what can be made in that area from vines that age. So there.
Great River Hill ranks among the projects I find most intriguing in China. A team in Shandong, but away from the traditional base, that makes something good and envisions something even better? I'm looking forward to the next vintage.
Before we left the vineyard, we opened a ceremonial first bottle of Great River Hill Chardonnay to inaugurate the modest and nearly complete clubhouse. We each drank a glass, cracked a few jokes and watched a goat snack on a bush. Then it was back to work.
Posted on | September 18, 2013 | No Comments
By Jim Boyce
Inner Mongolia winery Chateau Hansen, just over the border from the Helan Mountain wine area in Ningxia, is looking at a good vintage, says winemaker Bruno Paumard. While there were some issues with flowering and with millerandage (grape clusters with berries that are not uniform in size or ripeness), he says there is more concentration this year.
Paumard is targeting 6000 tons of grapes. On his vineyard, he has reduced yields to boost quality and will supplement it by buying from other growers, the amount depending on price per kilo. He adds that Hansen's substantial cellar — it already has 2500 barrels — is nearly complete.
Several people have asked me if Hansen is available overseas. Paumard says it is now exported to Denmark and Australia and will also soon be seen in the UK and French markets.
The photos below are from about a week ago.
See also: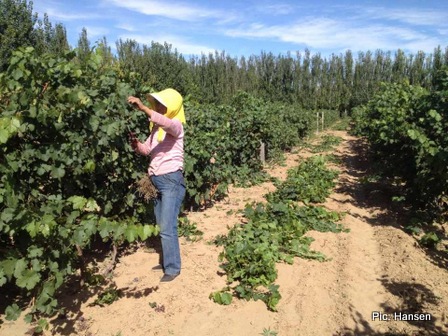 Posted on | September 17, 2013 | No Comments
By Jim Boyce
Someone in Beijing showed me a wine game that includes a set of cards with discussion topics nearly guaranteed — IMHO — to bore players to death before they get that first glass of Lafite '82 down their throats.
"Did you question Merlot after seeing the movie 'Sideways'?" "How often do you disagree with the rating of a wine with a high score?" "How many bottles do you buy in a year?"
All coma-inducing topics — again, IMHO — although I don't simply want to criticize. I also want to create solutions. Because that's the kind of positive solution-creating person I am. So here are a dozen wine-related questions I find much more interesting than anything found in that deck.
1. Have you ever opened someone's very rare and/or expensive wine and pretended you had no idea how rare and/or expensive it was? How many times?
2. If you put a zinc penny into a decanter of corked wine, it won't smell corked any more, but it will taste like a zinc penny. True or false?
3. Would you eat a cork for a dollar? How about five dollars? Ten dollars? You'd do it for ten dollars, wouldn't you? Liar!
4. On a scale of 1 to 10, with 1 being 'fully totally completely and utterly awful' and 10 being 'worse than a corked bottle of warm White Zinfandel strained through a marathoner's used running shorts', how do you rate the movie Bottle Shock?
5. Have you ever opened some Sauvignon Blanc, noticed it lacked aroma, and made your cat pee in the bottle so it seemed more Sauvignon Blanc-y?
6. Have you ever tried the same thing with your dog only to find it didn't create the same aromatic je ne c'est quoi?
7. Who would win, and why, a sabrage contest between Robert Parker and Jancis Robinson? How about skeet-shooting?  Candy Crush Saga?
8. Did you ever blow over the top of a wine bottle to get an oboe-like sound? Did you ever do it with several bottles, each with varying amounts of liquid, to get more than one note? What song were you trying to play? Was it 'Smoke on the Water'?
9. Have you ever found anything weird in a bottle of wine? Like some grape seeds? Or a baby mouse? Or a handful of blood diamonds?
10. I once accidentally dropped a bottle of wine — a Barossa Shiraz from Glaetzer, in case it matters — down the marble steps at The Hilton Beijing. How many times did it bounce before shattering and sending a cascade of wine to the bottom where stood an unamused hotel manager?
11. Could you imagine so-called wine geeks proving their "passion" by poking their eyes out to do more authentic "blind" tastings? Me, too.
12. Have you ever dreamed of riding behind Robert Parker on a solid gold unicorn over unctuous rivers of Napa Cabernet illuminated by a rainbow of colors from a glorious setting sun, thought it was the perfect scene, and then have him turn and destroy the mood by saying, 'I'd give that sunset 92 points'? Me, too.
[Get the Grape Wall newsletter. Click here for a sample. Click here to join. Follow Grape Wall on Twitter here.]
http://www.grapewallofchina.com/2013/09/17/lets-talk-about-it-fixing-the-worst-wine-game-of-all-time/
Posted on | September 17, 2013 | No Comments
By Jim Boyce
Hey, that's the word they used in the press release: "Acker Asia Explodes into Fall Season".
Reading it makes me realize the tough times for the most recent crop of nouveau riche turned wine fans attending their first Hong Kong auction. It used to be one could simply show up, bid on some "Lafite" and feel good. Now one must deal with a group of names that sounds like the French synchronized swim team — Meo-Camuzet, Liger-Belair, Sauzet, Mongeard-Mugneret, the list goes on.
It must also be tough on PR teams at the auction houses, since every sale seems to have more bids beating pre-sale estimates, more records, more "frenzied" bidding (I hear three people have lost arms this year alone, can anyone confirm?). Plus, there is a dearth of appropriate synonyms for "frenzied". "Frantic", "manic" and "out of control" lack that same je ne c'est que. Maybe SNAFU-ish?
Anyway, Acker Asia held a two-day auction in Kong Kong last weekend that raised HK$50 million, set 108 records, and poured some cold Montrachet on all the blabbing about a looming economic slowdown in China. States Acker's John Kapon:
"Continuing the momentum of our New York auction last weekend, the atmosphere here in Hong Kong was electric. People and the media keep talking about there being an economic slowdown coming in Hong Kong or China, but I couldn't see anything of the sorts this weekend. Collectors made a point of attending this auction in person because they simply didn't want to miss it, and then spent practically three times more than absentee bidders, even though both categories essentially won the same number of lots. The participation of buyers from mainland China was particularly significant as they competed vigorously with collectors from Hong Kong and around the globe for some of the greatest wines in the world, driving the prices of many lots beyond their estimates. American buyers notably bought 18% of this sale, an important indicator of a balanced and strong global market. Several US collectors even made the trip to HK just for this sale and feasted accordingly. The sale was absolutely sensational, demonstrating strength in all categories in this current diverse market."
Is it just me or did he just justify some junkets for officials at China's Ministry of Commerce for the next auction?
"Hey, we've just been assigned to find out if there is an economic slowdown coming in China. What should we do?"
"You fool. We have to go to the next Acker wine auction and talk to John Kapon. It's the only way that we'll know."
Anyway, Burgundy brought the bucks last weekend, with two cases of assorted DRC at HK$442,800, six magnums of 1999 La Tâchein at HK$393,600, three bottles of 2010 Romanée Conti at HK$295,200 and six bottles of 1971 DRC Richebourg at HK$246,000.
"The breadth of demand for Burgundy was highly notable, an important indicator of a healthy, growing market," says the press release. "World record prices were also set by Vogue, Roumier, Fourrier, Mugnier, Drouhin, Mongeard-Mugneret, Bouchard, Mortet, Mugneret, Clair Dau and Sauzet."
It also noted strong sales of Bordeaux, including a 12-bottle case of 1982 Pétrus at HK$479,700, six bottles of 1961 Mouton at HK$246,000 and six bottles of 1966 Haut Brion at HK$108,24. Meanwhile, a case of 1992 Screaming Eagle Cabernet Sauvignon fetched HK$442,800.
The next Acker sale in Hong Kong is on October 26. Expect it to be frenzied.
Posted on | September 17, 2013 | No Comments
By Jim Boyce
Results from the inaugural China Wine List of the Year contest were announced last weekend in Shanghai with more than 70 hotels, bars and restaurants receiving a rating of "recommended" or higher.
Taking top spot? The Robuchon au Dome in Macau. This place has a 350-page menu and more than 10,000 bottles in its cellar. Peter Forestall, c0-chairman of the judges, described it as "a billionaire's list, a playground for the rich and famous. For all that, it does show what is possible with a talented sommelier and the desire to create an inspirational and aspirational list."
If you're not familiar with the Robuchon's list, which includes gems like a 1900 Latour and an 1825 Y'Quem, it's kind of like entering, into a Car of the Year contest, a diamond-encrusted DeLorean capable of time travel. In other words, a blinged-out Back to the Future car. That's definitely going to win if everyone else is driving BMWs and Honda Civics. I know I voted for Robuchon.
In an email interview, Forrestal called the response to the contest "exceptional" and praised the best entries.
"At the top end, the sheer depth of the great lists inspire awe," he said. "These show an amazing knowledge of the great wines of the world and a determination to source the best. Similarly, there have been lists that boast outstanding cutting edge wines from the USA, Australia, France and the major producers around the world. These show an up-to-the-minute knowledge of exciting developments in winemaking while offering outstanding wines at good prices."
He did find a couple of surprises. For one thing, he expected to see better by-the-glass lists. And, he asked, "Where are the Chinese wines?"
I plan two more posts about this contest. One will cover the intriguing bottles found on the lists — I spent about eight hours going through the six finalists. The other will explain where to find at least some of those Chinese wines.
Some of this year's major winners are listed below. You can get the full results here.
Posted on | September 17, 2013 | No Comments
~
By Jim Boyce
U.S.-based magazine Wine Enthusiast teamed up with China online retailer YesMyWine last year to publish an e-version of the magazine. In August, a Wine Enthusiast team that included CEO Sybil Strum, executive editor Susan Kostrzewa and communications director Jacqueline Strum came to China for a three-city visit that covered classes, dinners, and tastings featuring 15 producers from around the globe. I asked Kostrzewa a few questions about the trip.
This was your first visit to China since Wine Enthusiast started its Chinese edition. What were the main goals of the trip?
To promote our Chinese editions and to learn more about the wine market and wine culture in mainland China, primarily.
What was the biggest surprise, in terms of the wine scene?
How adventurous and knowledgeable the consumers were. They were more open to new varieties and styles than most American consumers are, to be honest. And they were serious in their pursuit of education. It was surprising to me how many consumers were pursuing their WSET certification just for fun.
What were the biggest differences among wine consumers in the cities you visited?
I'd say they were all pretty invested in learning more. Some cities are just further along in the exposure they are offering to wine and wine culture. Obviously Hong Kong is the most advanced. Then Shanghai after that. But again, the wine consumers we met in all of the cities were quite sophisticated.
How does the Chinese edition of Wine Enthusiast differ from the English edition?
We focus on wine topics that are geared toward the Chinese consumer. We cover the styles of wines they like, mixing high-end categories like Brunello with up-and-coming wines from regions like Rioja. Plus, we're focusing more on wine education in our Chinese pages. There's more of that edit than in our American version, as the typical American reader is a little further along as regards regionality, terroir, etc. Also, we're writing about local topics, such as the best wine bars in Shanghai and winemakers of note working on Chinese domestic wine projects.
Did you learn anything on the trip that will change how you cover this market?
Yes, many things. Again, I recognize that Chinese consumers are adventurous in taste, which makes sense given the vast diversity of culinary traditions and flavors in China. I also know that the pursuit of knowledge is not flippant in China. We have to keep pace because the wine consumer in China will demand it. They are discerning.
Wine Enthusiast is currently an e-publication. What would it take to get it to print?
We made a conscious decision to make this an e-publication, based on advice from people living and doing business in China. But if people decide they'd like to see a hard copy version of the magazine, they need to let us know!
See also:
[Note: I occasionally write for Wine Enthusiast.]
Posted on | September 16, 2013 | No Comments
~
By Jim Boyce
The new People's Series wines by Grace Vineyard were launched yesterday in Beijing during the annual "Taste of the Nations" event held on Saturday by Everwines, the retail brand of Torres. "Taste of the Nations" features ~150 wines, from 14 countries, handled by Torres. As usual, the lineup included wines from its two China-based partners, Grace and Silver Heights. The People's Series wine, launched a few months ago in Shanghai, received its own table and display.
The 2011 Chardonnay is made from grapes grown at Grace's home base in Shanxi while the 2011 Cabernet Sauvignon is sourced in Ningxia from vines that range in age from six to ten years, says Torres' north China manager Damien Shee. Both retail for rmb99.
"People's Series is a tribute to the People of China, with images of people on the label: workers, farmers, students, merchants," stated a Torres press release in June. They are particularly aimed to young urban consumers. The labels, which resemble propaganda posters, drew mixed reactions yesterday. Several Chinese said that people in China generally would not appreciate them while most expatriates I talked to immediately identified them as a potential gift for friends and family back home.
The Grace portfolio includes three other levels of Chardonnay and Cabernet Sauvignon: entry-level (rmb75), premium (rmb125) and Tasya's Reserve (rmb199). You can see the wines and prices at Evervines.
[Get the free Grape Wall newsletter. Click here for a sample. To join the mailing list, use the form in the right sidebar or click here. Follow Grape Wall on Twitter here.]
Posted on | September 16, 2013 | No Comments
~
By Jim Boyce
Media company Wine China and cork supplier Columbin recently held a tasting of ~30 Chinese wines, most of them regional brands unknown to the general consumer in Beijing. Jim Sun of Wine China asked me to talk for a few minutes to the attendees, most of them wine makers with the brands participating. I made five brief points from my perspective as a consumer and thought I would share them here. (As I didn't write them down, the following isn't verbatim, but gives the basic points.)
1. The region of Ningxia is winning the China wine game at this point and is unique in having a cluster of over a dozen decent producers. Good natural conditions and strong government support are two key reasons. Another is the availability of large tracts of land that allow wineries to better control fruit quality as compared to buying from many small-scale farms.

2. The quality of Chinese wines is improving. I started drinking them eight years ago and finding a handful of good ones then was a challenge. Today I can easily create a "top 10" or "top 20" and point to a good number of decent producers. These good wines still represent a few cases of the total barrel of production in China but it shows what is possible with an increased focus on quality. This quality can be further raised, especially by better vineyard practices that give winemakers better grapes. But there are two key challenges when it comes to the consumer market.

3. One challenge is distribution. Better Chinese wines are often hard to find. Last year, I helped organize the Ningxia Wine Challenge in Yinchuan. We had 39 wines and the judges, led by Ma Huiqin and Jancis Robinson, deemed the vast majority as good. A few weeks later, I went to a supermarket in downtown Yinchuan, the capital of Ningxia, to grab a few of these wines to take to Beijing. I couldn't find any of them. I have also had readers call me during trips to Yinchuan to ask where they can buy the wines I write about on this blog. It's hard to explain that I don't know where in Ningxia to get the best Ningxia wines.
Most of the best wines are also made in small quantities. If a winery only makes 10,000 bottles of a given label, that works out to one bottle per 130,000 people, not exactly something most drinkers can find and try.
4. The second problem is the prices. They are too high. I can walk into my local 7-ELEVEN and buy a decent bottle of Chilean wine for rmb75. All of the bottles at the Wine China-Columbin tasting cost more than this, with most between rmb250 and rmb900. They can't compete in terms of value, at either the low end or high end, since wines from France, Spain, Australia and elsewhere offer more.
This especially matters now as government austerity measures are severely curtailing spending by officials, traditionally a key source of revenue. We do see increased spending by consumers, but while this group has traditionally bought wine for reasons of status (gifts and celebrations) or health, it is more and more buying them based on taste. Thus producers are looking at pressure to simultaneously raise quality and lower prices.

5. These are "good" problems. We are talking about the need for better distribution and pricing because these wineries are making something of value. We know China can make decent wines. What we don't know is how many producers can provide greater value, either by improving quality or lowering price or both, and how many of them can get those bottles into the hands of consumers. These are intriguing questions as the wine market develops.

Posted on | September 12, 2013 | No Comments
By Jim Boyce
It's a bumper harvest this year for China wine rumors. This month's is that Chilean heavyweight Concha y Toro bought a 50-percent stake in China-based wine importer and distributor Summergate. Concha y Toro has been a cornerstone of the Summergate portfolio, especially as major accounts Antinori and DBR Lafite left in 2012 and 2010 respectively, the latter said to part ways after being unable to invest in the distributor. While Summergate founding partner Brendan O'Toole has relocated to the UK, fellow partner Ian Ford said last week that O'Toole remains involved as a non-executive shareholder and that no equity has changed hands. There is also no word from Concha y Toro re any investment. I'll update if there are any updates / news re this situation.
Rumors on the health of importers and distributors are thick these days. Thousands of new players, often led by inexperienced managers, rushed to import wine over the past five years and found it far easier to bring in bottles than to actually sell them, thus, there is lots of stock on hand and lots of likelihood of dumping. Add the new wave of online retailers, who are battling for market share as much as for profit at this point, and a government crackdown on official spending that has seriously dented sales of high-end bottles, and there is plenty of market pressure. On top of this, as global players see their stakes growing in the China market, they want more control of their brands, which includes investing in established distributors — Suntory's share in ASC is a prime example. Anyway, given all this, don't expect the rumors to let up any time soon.
By the way, look for an interview with Ian Ford on his fifteen years experience in the China market in the very near future.
Posted on | September 11, 2013 | No Comments
~
By Jim Boyce
"Is it man or beast!?" Men, women and children of all ages uttered those words last year at the Hilton Food & Wine Experience in Beijing as Philip 'Awesometon' Osenton picked up glasses, one by one, until he held 51 in one hand. Fifty-one! It was, indeed, an impressive sight. Because his hands aren't even that big! (Seriously, he should get finger extensions. I'm sure he could hold 75 glasses.)
It was just part of what I'd say is the the top annual wine consumer event in Beijing. Now in its sixteenth year — that alone is a feat given how fast things change in this city — the Food & Wine Experience features over 1000 wines from over 20 countries, from distributors both big and small, plus food vendors, classes on coffee, chocolate, beer and more, and the chance to meet fellow consumers.
This year's event is slated for November 2. The Hilton's Simon Amos says over 80 booths are already reserved.
I posted before why I think distributors, especially those without a retail presence, should book space at this event. I don't think I need to post why consumers should go, unless they have something against sampling a huge range of wines for a few hundred renminbi.
More on this year's event soon…
Posted on | September 10, 2013 | No Comments
Note: To reserve a spot in the tasting, contact Capital M at 6702-2727 or reservations@capital-m-beijing.com.
---
By Jim Boyce
I'm a writer, not a speaker; a wine consumer, not an expert. So I rarely lead public wine tastings. But I will do one this Friday at Capital M and I think we have an excellent lineup.
The focus is Chinese wines and we have picked from among the country's best, including — from east to west — Great River Hill (Shandong), Grace Vineyard (Shanxi), Chateau Hansen (Inner Mongolia), Silver Heights (Ningxia), Helan Qing Xue (Ningxia), Domaine Helan Mountain (Ningxia) and 1421 (Xinjiang). And I'm hoping to add one more (TBC).
To buy these bottles would cost over rmb2000. The fee for this event is rmb138. That makes it an economical way to "try before you buy" and get an idea of what is available in the market. (Note: There won't be any bottles for sale at the event.) Plus, Capital M is a very cool venue!
What I'll do is give basic background on each wine — where it comes from, who made it, what the weather was like in a given year, and so on. I'll also provide some stories behind the wineries. Which winery has only three employees? Which has a link to Atlantis? And which has a donkey as a mascot? All shall be revealed.
(If you like to ask questions about baume levels, yeast strains and varietal clones, this event probably isn't for you. I have a basic knowledge of the wines and wineries but I'm not well-versed on the technical side.)
The heart and soul of the event is the chance to try, side by side, what rank among nine of China's better wines and to see which ones they like.
I'm told Capital M has 30 to 35 seats for the tasting and about half are already booked. If you'd like to join, RSVP at this Capital M page, and please let me know as well. Also, please account for traffic if you plan to attend as we will start around 6:30 PM.
And if you have any questions, you can reach me at beijingboyce (at) yahoo.com.
Posted on | September 6, 2013 | 2 Comments
A bubbly to honor a Communist icon. A blend of Cabernet and cabaret. And a bottle that brings DRC and Lafite together at last. Some of the weird and wonderful wine labels spotted in China over the past few years.
I included 15 labels in a special issue of my China wine newsletter GWoC Talk last night. From 'Old Man', with its hint of spent youth, to a back label that doesn't give — or rather does give — a "sweet fuck".
I'm posting them here, too, and hope you enjoy them as much as I do. And look for more labels at this tumbler account and occasionally on this blog. Finally, if you are a regular reader, you might have seen a few of the labels below, but most of them are making their debut.
---
Moistens your lung
What does Foreign Girl taste like? Strawberries. I got this bottle, made by Chang Bai Shan in the northeast province of Jilin, at Carrefour a few years back. Along with grapes, it includes wolfberry, which is commonly used as medicine. The label description (reproduced with typos):
"The wine is clear and transparent with bright color and lustre, mellow and tastelasting with charming fruity taste. Thanks to the nut ritions such as amino acid,vitamin C,vitamin B1, vitaminB2, schisandra element, schisandra alcohol, volate oil and multiple microelements, the wine moistens the lung,enriches the."
OK, it moistens the lung. But it enriches the… what? I would say the global stockpile of unintentional humor.
---
Ages well
Imagine the tasting notes for this bottle of Old Man. 'Prune and faint tobacco aromas, with a whiff of spent youth. The body is a bit flabby but still shows complexity, providing a wrinkle of dried fruit and a finish that strongly disapproves of today's youth.' Perfect for retirement or sixtieth birthday parties. Spotted in Yantai in Shandong province.
---
A sweet, er, screw up
It might not exist on the "aroma wheel" but the translators didn't shy away from using "sweet fuck" on the back label of this Alice White wine from Australia. Consider it the equivalent of when Robert Parker describes a wine as "rich". Which is all the time. But don't expect it to apply if you blend the Foreign Girl and Old Man wines.
---
Rock label
Silver Heights in Ningxia makes my favorite Chinese wines and some of the best labels. The subdued paper color, elegant typeface, and imagery based on thousand-year-old rock art from the nearby Helan Mountain range all work to evoke history via modern design. Plus, the wine comes in regular and big sizes. (I believe the latter are called 'magnums'. I will drink one and find out.)
---
Wine of the times
China witnessed turbulent times as the grapes for this vintage grew in Shandong. Yangtze River floods killed millions, the Mukden Incident saw Japan push through Manchuria, and former China leader Mao Zedong established the Chinese Soviet Republic as the Kuomintang sought to stop him. This label is evidence of a wine-making history in China that is older than most think but, ultimately, it evokes something much more significant — a crucial year in China's past.
Posted on | September 3, 2013 | 1 Comment
~
By Jim Boyce
'Flying winemaker' Brian Wilson of Wine Solutions first landed in China in the year 2000, one of many stops on a twenty-year route that has included the United States, France, Bulgaria and, of course, his homeland of Australia. He remains on the search for new adventures. I asked him about his first experiences in China, the biggest changes and challenges in this market, and his favorite local wines.
~
You flew into the wine sector here more than a dozen years ago. What was your first project?
My first project in China was in 2000 in Zaoyang (see photos above and below) which is a three-hour drive north of Wuhan in Hubei province. I was asked to go and evaluate a derelict winery that was built by the French in the early 1970s and assess what was needed in order to process the native grapes that were grown in the local forest.
The people there said the grapes had been growing for a thousand years and they had never been used to make wine. The first year we made small batches from over a dozen different native grapes and worked out that three of them were well-suited to making wine. The following year we sent pickers out to get only these three varieties and made bigger commercial quantities which received high acclaim.
You have since done others projects in China. Could you tell us about another one?
Another of the early projects was planting a vineyard at Yau Kang Zhen. This was a real lesson in how thorough and detailed the Chinese can be when good communication happens.
We were taken out to see a field that was designated for the vineyard and we made decisions on row orientation and vine spacings. The area was about 350 mu (almost 60 acres). All looked great except for concerns of a clay layer two feet below the surface.
Upon returning about a month later, we saw that each row had been dug out and the trenches were four feet deep. These were subsequently filled with a layer of sand, then seaweed and other organic nutrients, before the topsoil was returned to each trench.
The vineyard was then planted to 15 different varieties — 10 of these were for wines and five were for table grape production. We imported the container of seedlings from Australia.
A lot of my learning of the Chinese wine culture came from exporting Australian wine and setting up a distribution and sales team. Our base was Suzhou and our sales team had to be trained from scratch. In 2002, our initial approach was naive and we made slow progress. It was thought that our quality would stand out when compared to the local coloured alcohol product that was being passed off as wine, and then once shown the difference our product would sell itself.
It wasn't to be this way. We had to find out what our new customer wanted and work out a way to keep our quality yet make the wines more user friendly. Our wines are now full flavoured with great vibrant colours without the aggressive tannins and obvious acids.
What has been the biggest change in Chinese viticulture and wine-making since you first visited China? What is the one change that would have the biggest positive impact?
Posted on | September 3, 2013 | No Comments
By Jim Boyce
Six years ago, I wrote a post called "The Search for Seven Good Chinese Wines", based on a tasting in my apartment in Beijing. I've since found far more decent Chinese wines than that and wrote about a few this month in The Beijinger in a new column called "Made in China".
I have occasionally written on wine for the local lifestyle magazines, including on China's top wineries and wine on a budget for Agenda Beijing and a cover story for City Weekend (see part 1, part 2 and part 3).
But I shied away from anything regular until managing editor Steven Schwankert of The Beijinger called me. He suggested I write about wine, I told him I was only interested in writing about Chinese wine, and, to my surprise, he gave the green light. I don't have anything against wine from elsewhere. It's just that since I came to work in China, my main focus has been on local wines, and that is what I'm most comfortable writing on.
Below is the first "Made in China" column. It explains how to get a handful of wines with one shopping trip for a DIY tasting at home. You decide whether or not the wines are good…
(Note: For more on the China wine scene, sign up for the Grape Wall newsletter, on the right hand side of the blog.)
Posted on | August 30, 2013 | No Comments
~
By Jim Boyce
Shandong province winery Great River Hill — based in Laixi rather than the traditional wine powerhouse Yantai — plans to boost production this year. The winery bottles under the label Chateau Nine Peaks and is attracting attention for its fruity wines at affordable prices, with good performances in the annual Chinese wine contest held by La Revue du Vin de France, the 2012 Columbin Cup in Yantai, and in tastings I have organized, like this one.
Production for 2012 of Great River Hill's three wines, a Chardonnay and entry-level and reserve Cabernet Sauvignons, will total 100,000 bottles, says owner Karl Hauptmann, which is up, if memory serves, from the 60,000 bottles of the first vintage in 2011. For 2013, Hauptmann says production will be about 200,000 bottles and will include two Chardonnays, two Cabernet Sauvignons and a small amount of Merlot. That would represent about a quarter of the vineyard's eventual capacity, he says.
A third Cabernet Sauvignon — a "Chairman's Reserve" — might also be added this year, said Hauptmann, as there are eight hectares of especially good grapes with "perfect ripeness". He also wants to "make an experiment with super ripe Merlot."
Great River Hill is set on — you can probably guess — a hill. Manager Maros Breda says the site provides good runoff: the area got over 500 millimeters in July! The operation also set up a nursery this year and uses rootstock from France after a lengthy process with Customs to get the material into China. Yanan Hao is technical director at Great River Hill. I'll have more on this winery very soon.
« go back
—
keep looking »