Some standard English-Chinese translations of grape variety names as provided by the Chinese Society of Viticulturists (for more details, see: A Rosé is a Rosé is a Rosé).
Red
Barbera 巴贝拉
Carménère 佳美娜
Carbernet Franc 品丽珠
Cabernet Sauvignon 赤霞珠
Cinsaut 神索
Malbec 玛尔贝克
Merlot 美乐
Nebbiolo 内比奥罗
Petit Verdot 小味儿多
Pinot Noir 黑比诺
Sangiovese 桑娇维塞
Shiraz / Syrah 西拉
Tempranillo 堂比尼罗
Zinfandel 增芳德
White
Aligoté 阿利歌特
Arneis 阿尼斯
Chardonnay 霞多丽
Chenin Blanc 白诗南
Colombard 鸽笼白
Gewürztraminer 琼瑶浆
Petit Manseng 小芒森
Müller-Thurgau 米勒.吐尔高
Muscat of Alexandria 亚历山大玫瑰
Pinot Gris 灰比诺
Riesling 雷司令
Roussanne 胡桑
Sauvignon Blanc 长相思
Sémillon 赛美蓉
Silvaner / Sylvaner 西万尼
Viognier 维欧妮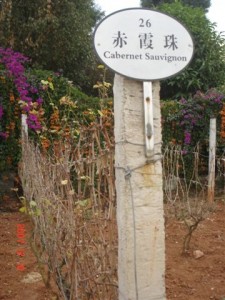 GWoC Talk Newsletter
Grape Wall Challenge 2012

December 12, F By Tribute, Beijing

Click for the 2011 results.
Plus the 2010 results
and the 2009 results.


Ningxia vs Bordeaux 2011
North by Northwest 2011

November 12, Hilton Beijing
Click here for results.

Wines tasted from:


1421 (Xinjiang)
Grace (Shanxi)
Hansen (Inner Mongolia)
Helan Mountain (Ningxia)
Helan Qing Xue (Ningxia)
Jade Valley (Shaanxi)
Rongzi (Shanxi)
Silver Heights (Ningxia)
Sunshine Valley (Gansu)
Grape Wall Challenge 2011

November 8, Modo, Beijing

Click for the 2011 results.
Plus the 2010 results
and the 2009 results.

Participating distributors


The Wine Word
Talks with wine people in and out of China (in chronological order).
Click the asterisk for the post.


Benjamin Wallace *
Author, Billionaire's Vinegar

Julia Zhu *
Sommelier, Hilton Beijing

Shinya Tasaki *
World sommerlier champ

Tommy Lam *
Wine educator

Miguel Torres *
President of Torres

Alder Yarrow *
Author, Vinography blog

Leo Liu *
Operations manager, Sureno

Olivier Six *
La Baie des Anges wine bar

Jeff Gao *
Wine consumer

Charles Carrard *
French Wine Paradox distributors

Jean-Luc Thuvenin *
Chateau Valandraud

Brian Yao *
Wine consumer

Patricio de la Fuente Saez *1*2
Links Concept director

Rebecca Leung *
Wine blogger

Julien Bonnard *
Top Cellar retail, distribution

Tom Wark *
Fermentation blog

Danny Wu *
Gelipu distributor

Zeon Chow *
Rutherford Bench/Napa Reserve

Ch'ng Poh Tiong *
Writer, publisher, consultant

Danny Kane *
Manager, Aria, China World Hotel

Jean-Michel Cazes *
Chateau Lynch-Bages

Nicholas Carre *
GM, Maxim's Beijing

Robert Joseph *
Writer, entrepreneur

Tyler Colman *
Blogger, author

Carlos de Jesus *
Amorim communications director

Frankie Zhao *
Wine consultant

Arcy Yin *
Editor (Food & Wine China)

Natalie MacLean *
Author

Peter Gago *
Penfolds chief wine maker

Gaia Gaja *
Gaja winery

Frederic Choux *
DCT Wines owner

Group interview *
20 global winery reps

Guy Wittich *
Event organizer, consumer

Robert Parker *
Writer, critic
Chinese translation *

Jenn Hinkle *
Event organizer, consumer (Beijing)

Pat Fromm *
Consumer, ex-industry (Beijing)

Wolf Blass/George Samios*
Wine maker / Foster's PR

Frederic Engerer *
Chateau Latour president
Translation *

Alberto Fernandez *
Torres China GM (Shanghai)

Steve Clarke *
China Silk owner (Xinjiang)

Tim Hanni *
Educator

Jancis Robinson *
Writer, critic
Translation *

John Gai *
Palette Wines owner (Beijing)

Ethan Perk *
Jebsen (Beijing). Note: Now at ASC

Zhang Ning *
Yunnan Red wine maker (Yunnan)

Shan Shumin*
Yunnan Red GM (Yunnan)

Wu Kegang *
Yunnan Red CEO (Yunnan)

Chantal Chi *
Writer (Shanghai)

Jeremy Oliver *
Wine writer, critic

Marc Curtis *
China Wine Tours leader

Eddie Osterland *
Sommelier, educator

Frank Siegel *
Event organizer (Beijing)

Judy Leissner *
Grace Vineyard CEO (Shanxi)

Don St. Pierre, Jr. *
ASC managing director (Shanghai)

Dan Siebers *
Summergate North China manager





Google
Grape Wall of China Challenge
Pages
Recent Comments
Recent Posts
Blogs - China
China wineries
Chinese Media
Distributors / importers
Groups
Personal Sites - Abroad
Retail outlets
Tools
Wine Consultants
Categories
Archives
Meta
About Grape Wall of China
Grape Wall Contributors
In alphabetical order (see full list)



Nicolas Carre
Sommelier



Chantal Chi
Writer



Yvonne Chiong
Sommelier, consultant



Judy Leissner
Grace Vineyard CEO



Li Demei
Wine maker



Huiqin Ma
Professor



Campbell Thompson
The Wine Republic co-owner



Frankie Zhao
Pro-Wine Training & Consultancy owner



Jim Boyce
Consumer, blog administrator